Apartment keys officially handed over today to vulnerable families from the settlement Zvjerinjak in Nikšić. Where there is will, there is a way – even in Montenegro!
More information (in Montenegrin) available at: http://www.vijesti.me/vijesti/mukama-dosao-kraj-stanovi-za-osam-porodica-iz-naselja-zvjerinjak-815579
Danas u Nikšiću svečano uručeni ključevi stanova ugroženim porodicama iz naselja Zvjerinjak. Kad se hoće sve se može i u Crnoj Gori!
Više detalja na: http://www.vijesti.me/vijesti/mukama-dosao-kraj-stanovi-za-osam-porodica-iz-naselja-zvjerinjak-815579
HRA submitted its proposals to MPs for 5 amendments to the Draft Law on Courts and 31 amendments to the Draft Law on the Judicial Council and the Rights and Duties of Judges.
HRA expects the MPs to urge the proposer of the Law on the Judicial Council and the Rights and Duties of Judges, the Minister of Justice, to withdraw this important piece of legislation from parliamentary procedure for further amendment and prevent its adoption in its present state.
With regard to the Law on Courts, HRA proposed:
- Specifying that the legal positions of principle of the General Meeting of judges is not a binding source of law, in accordance with the recommendation of the Venice Commission;
– Limiting the proposed authority of the president of the court to inspect case files;


>>>
Akcija za ljudska prava je danas dostavila poslanicima i poslanicama predloge 5 amandmana na Predlog zakona o sudovima i 31 amandman na Predlog zakona o Sudskom savjetu i pravima i dužnostima sudija.
Očekujemo da poslanici apeluju na predlagača zakona o Sudskom savjetu i pravima i dužnostima sudija, ministra pravde, da taj važan zakon vrati na doradu i da se on ne usvaja u ovom stanju.
U odnosu na zakon o sudovima, predložili smo:
- da se precizira da načelni pravni stav sjednice sudija nije obavezujući izvor prava, u skladu s preporukom Venecijanske komisije;
– da se ograniče predložene mogućnosti predsjednika suda da izvrši uvid u predmete;
–

>>>
The Parliament of Montenegro this week discusses before its Committees the Draft Law on the Constitutional Court. HRA submitted 13 proposals for amendments to the Draft law to MPs on Friday, 16 January 2015, highlighting the following issues to the end of a more effective, efficient and transparent Constitutional Court:
• HRA protests against the Government's proposal to shorten the deadline for filing the constitutional complaint from 60 to 30 days, as well as the proposal to entirely leave out the deadline for the Constitutional court to make decisions, which was previously prescribed to 18 months. These proposals do not contribute to the effective protection of citizens' rights, but to the inefficiency of the Constitutional Court, which has been scandalous so far. HRA reminds that it took the Constitutional Court five years to decide on the unconstitutional provision of the Criminal Procedure Code, whereas in some constitutional complaints even up to three years. In our experience, many citizens have lost the opportunity to protect their basic rights, just because they were late to file a constitutional complaint within the deadline of two months (which is now reduced to one month);
Parlament Crne Gore će u toku naredne nedjelje raspravljati u odborima o Predlogu zakona o Ustavnom sudu. HRA je u petak, 16. januara, svim poslanicima i poslanicama dostavila 13 predloga amandmana na Predlog zakona. Skrećemo pažnju javnosti na sljedeće amandmane koji su suštinski neophodni da bi Ustavni sud konačno postao djelotvorniji, efikasniji i transparentniji:
• protivimo se predlogu Vlade da se skrati rok za podnošenje ustavne žalbe sa 60 na 30 dana, kao i da se iz zakona potpuno izbaci rok za odlučivanje Ustavnog suda, koji je bio propisan na 18 mjeseci. Ovi predlozi ne doprinose djelotvornoj zaštiti prava građana, već podilaze neažurnosti Ustavnog suda koja je do sada bila skandalozna. Podsjećamo da je Ustavnom sudu bilo potrebno čak pet godina da odluči o neustavnoj odredbi Zakonika o krivičnom postupku, a o nekim ustavnim žalbama i tri godine. Prema našem iskustvu, mnogi građani su izgubili priliku da zaštite svoja osnovna prava, samo zato što su zakasnili da u roku od dva mjeseca (koji se sad skraćuje na pola) podnesu ustavnu žalbu;
Following the tragic attack on the Charlie Hebdo magazine in Paris, the Executive Director of NGO Human Rights Action (HRA) Tea Gorjanc-Prelevic sent letters to the magazine and French ambassador in Montenegro Ms. Veronique Breneaux expressing her personal and HRA's deepest condolences regarding the attack and all related victims. Enclosed is the shared content of both letters also published by the Montenegrin media.
"HRA expresses its deepest condolences to the families of the victims of last week's massacre in the premises of Parisian weekly Charlie Hebdo. HRA shares the grief of French citizens and advocates of democracy and freedom of speech worldwide.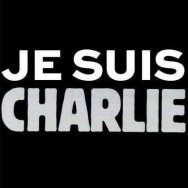 Akcija za ljudska prava učestvuje u žalosti porodica žrtava jučerašnjeg masakra u prostorijama pariškog nedjeljnika Charlie Hebdo. Dijelimo tugu i svih Francuza i poštovalaca demokratije i slobode govora širom svijeta.
Stvaraoci Charlie Hebdo-a su odano i plemenito služili najčovječnijem u nama – potrebi da se izražavamo, razgovaramo, da se ne klanjamo idolima, da kroz debatu pronađemo najbolje ideje koje svijet mogu da učine bezbjednijim i ljepšim mjestom za život.
Jučerašnja tragedija podsjeća da je jedino relevantno razlikovati ljude na one koji praktikuju divljaštvo i nasilje koriste umesto argumenata, i ostale koji poštuju pravo na različito mišljenje i slobodnu razmjenu misli kao jedno od najviših civilizacijskih dostignuća.
Divljaštvu se suprotstavimo tako što ćemo se potruditi da pobijedi kultura poštovanja ljudskih prava svakog ljudskog bića, koja jedina svakome daje šansu da preživi i ostvari svoje sposobnosti.
Tea Gorjanc-Prelević
izvršna direktorica HRA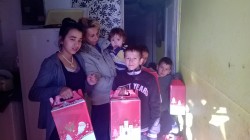 Thanks to private donors, NGO Human Rights Action (HRA) delivered 20 New Year's presents to children of most vulnerable families in Zvjerinjak on 29 December 2014.
HRA invites all potential donors to donate 6.000 EUR, the amount necessary for completing the construction of the fourth object for housing of all six families from Zvjerinjak, which are currently living in cramped barracks full of moisture and with no sanitary facilities.
HRA reminds that demolition of these barracks is scheduled for February 2015.
Akcija za ljudska prava (HRA) je juče, 29. decembra 2014, podijelila 20 poklon paketića djeci iz najugroženijih porodica u naselju Zvjerinjak, zahvaljujući privatnim donacijama.
Apelujemo na potencijalne donatore da doniraju 6.000 eura, jer je toliko neophodno za završetak izgradnje četvrtog objekta za zbrinjavanje svih 6 porodica iz Zvjerinjaka, koje trenutno žive u skučenim i vlažnim barakama bez mokrih čvorova.
Akcija za ljudska prava (HRA) je učestvovala na javnoj raspravi o Nacrtu Programa socijalnog stanovanja Glavnog grada Podgorice za 2015.
Kako se čulo na javnoj raspravi, Glavni grad nema preciznu evidenciju o broju stanova (uglavnom baraka) koje su date na korišćenje korisnicima MOP-a.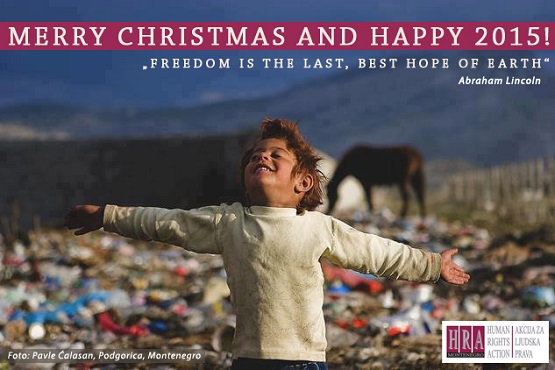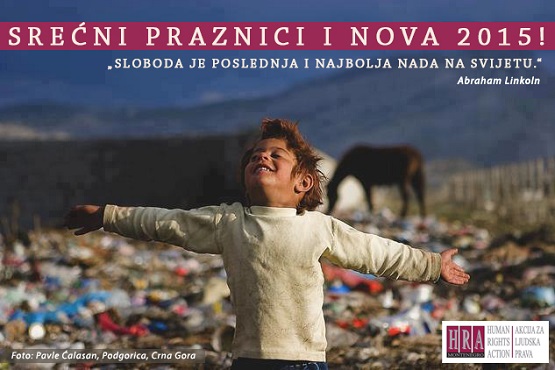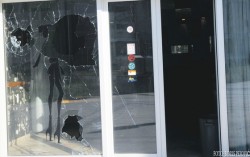 HRA condemns the last, 26th (TWENTY SIXTH) attack on LGBTIQ Social Centre in Podgorica, as well as previous 25 attacks, and calls upon the authorities to effectively investigate, identify and punish the perpetrators.
Police prosecuted none of the attacks, and the penultimate attack is particularly concerning because the facilities of the social center have been guarded by the police. Given the fact that the Police Directorate provided no justification for this, one can only speculate whether the police are actively or passively supporting such attacks?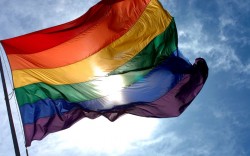 Osuđujemo poslednji 26. (DVADESETŠESTI) napad na LGBTIQ Socijalni centar u Podgorici, kao i prethodnih 25 napada i pozivamo nadležne institucije da hitno istraže, otkriju i kazne počinioce.
Policija nije procesuirala nijedan od napada, a pretposlednji posebno zabrinjava jer su prostorije Socijalnog centra istovremeno bile i čuvane od strane policije. Kako se u međuvremenu Uprava policije nikako nije opravdala, ostaje samo da se nagađa da li policija i aktivno ili samo pasivno podržava ovakve napade?