Human Rights Action condemns the yesterday's attack on two gay persons in Podgorica. We believe, based on the information we received from colleagues in the LGBT Forum Progress about the incident, that they were attacked because of their sexual orientation. This attack is encouraged by the climate of impunity for hate crimes committed so far against members of the LGBT community.

>>>
Akcija za ljudska prava osuđuje jučerašnji napad u Podgorici na dvije gej osobe, koji se, na osnovu informacija o incidentu koje smo dobili od kolega iz LGBT Foruma Progres, dogodio samo zbog njihove seksualne orijentacije. Ovaj napad je ohrabren atmosferom nekažnjivosti za krivična djela počinjena do sada iz mržnje prema pripadnicima LGBT zajednice.  

>>>
Bearing in mind that the Constitutional Court has held two sessions in its new composition, and during one of them decided on as many as 146 cases, NGO Human Rights Action (HRA) has submitted on Friday, 21 February 2014, a letter to the President of the Constitutional Court of Montenegro, Desanka Lopičić, in which we appealed:
1. that the Constitutional Court should first decide on the constitutionality of the termination of mandate of judges of the previous composition, and thus on the constitutionality of their own election, on which proceedings were initiated by the Ombudsman;
2. to publish a public schedule of the decision making process of the Constitutional Court, particularly in relation to cases in which decisions are pending for years;
3. to make the operation of the Constitutional Court in its new composition more transparent.
Letter submitted to the Constitutional Court (in Montenegrin).
Imajući u vidu da je Ustavni sud u novom sastavu održao dvije sjednice, od kojih jednu na kojoj je odlučio čak u 146 predmeta, NVO Akcija za ljudska prava (HRA) uputila je u petak, 21.02.2014. pismo predsjednici Ustavnog suda Crne Gore, Desanki Lopičić, u kojem je apelovala:
1. da Ustavni sud prije svega drugog odluči o ustavnosti prestanka mandata sudijama prethodnog saziva, a samim tim i o ustavnosti sopstvenog izbora, o čemu je po predlogu Ombudsmana već pokrenut postupak;
2. da se objavi javni raspored odlučivanja Ustavnog suda, pogotovo u odnosu na predmete u kojima se odluke čekaju godinama;
3. da u novom sazivu rad Ustavnog suda postane transparentniji.
Human Rights Action (HRA) is concerned for respect of the rule of law due to the decision of the State Prosecutor's Office in Podgorica to criminally prosecute and detain for two days nine citizens who protested by sitting on the sidewalk on 15 February 2014, even though they did not endanger the police, nor destroy other people's property. Of particular concern is the fact that after a protest, during which nine police officers were injured, one with serious bodily injury, to date only one person has been arrested and charged with a criminal offense "Attack on a person acting in official capacity".
(Of the 20 arrested protesters, one person was released without charges, six were prosecuted in misdemeanour proceedings for insolent behaviour and refusal to obey an order of a police officer, 13 were prosecuted in criminal proceedings and deprived of liberty, and as many as 9 of them for sitting on the sidewalk, or for criminal offense "Failure to obey orders to break up". Only one person of all the arrested protesters was suspected of committing the criminal offense "Attack on a person acting in official capacity". Two persons were suspected of committing criminal offense "Preventing a person acting in official capacity from performing official duty" and one for "Destroying and damaging other people's property")[1].

>>>
Akcija za ljudska prava (HRA) izražava zabrinutost za poštovanje vladavine prava zbog odluke Osnovnog državnog tužilaštva u Podgorici da krivično goni i dva dana drži zatvorene devet građana koji su 15.2.2014. protestovali sjedenjem na pločniku, iako oni tako nisu ugrožavali policajce, niti su uništavali tuđu imovinu. Zabrinjava i to što je posle protesta na kojima je povrijeđeno devet službenika policije, od kojih jedan s težim tjelesnim povredama, do danas samo jedno lice uhapšeno i osumnjičeno za krivično djelo "Napad na službeno lice".
(Od 20 uhapšenih demonstranata, jedno lice je oslobođeno bez optužbe, 6 je prekršajno procesuirano zbog drskog ponašanja i odbijanja da poslušaju naredbu policijskog službenika, 13 je krivično procesuirano i lišeno slobode, od kojih čak 9 zbog sjedenja na pločniku, odnosno "Nepostupanja po naredbi za udaljavanje". Samo jedna osoba od svih do sada uhapšenih demonstranata osumnjičena je za krivično djelo "Napad na službeno lice". Dvije osobe su osumnjičene za krivično djelo "Sprječavanje službenog lica u vršenju službene radnje" i jedna za "Uništenje i oštećenje tuđe stvari")[1].

>>>
Human Rights Action wants to inform the public that the Council of Council of Radio Television of Montenegro (RTCG) has accepted a complaint submitted by HRA director, Tea Gorjanc-Prelevic, because the state-owned television did not inform the public about HRA's report "Monitoring of Journalistic Self-Regulatory Bodies in Montenegro".
Upon the complaint, the Council of RTCG recommended the TVCG director, Radojka Rutović, to "pay attention to events of public interest in planning contents to be presented within the central news, and make every effort to find room for such information". The Council's decision was based on the report issued by the RTCG's Commission for Appeals and Complaints, which concluded that "presentation of this report was an event of public interest that should have been covered and presented to the public within the News 2 – the most watched news programme". The Commission also concluded that "by failing to broadcast information on the event and the report itself, the public service broadcaster did not respect one of its main aims, its obligation to process information in Montenegro timely and comprehensively, in an objective and balanced manner, supporting a constructive dialogue".

>>>
Obavještavamo javnost da je Savjet RTCG usvojio prigovor izvršne direktorke NVO Akcija za ljudska prava (HRA), Tee Gorjanc-Prelević, zbog toga što u centralnoj informativnoj emisiji Dnevniku, TVCG nije izvjestila o izvještaju HRA 'Monitoring novinarskih samoregulatornih tijela u Crnoj Gori'.
Savjet RTCG je povodom toga preporučio direktorki TVCG, gospođi Radojki Rutović, da "u planiranju sadržaja koji se obrađuju u okviru centralne informativne emisije obrate pažnju na događaje od javnog interesa i pokažu maksimum napora kako bi pronašli prostor za takve informacije". Savjet je postupio na osnovu izvještaja Komisije za pritužbe i predstavke, koja je zaključila da je "predstavljanje izvještaja događaj od javnog interesa, koji je trebalo da bude ispraćen i predstavljen javnosti u okviru Dnevnika 2, kao najgledanije informativne emisije. Komisija je takođe zaključila da "neemitovanjem informacija o događaju i samom Izvještaju nije poštovan jedan od ciljeva javnog servisa, koji se odnosi na obavezu da javni servis 'pravovremeno, sveobuhvatno, objektivno, uravnoteženo i vjerodostojno obrađuje događaje u Crnoj Gori podržavajući fer konstruktivan dijalog'".

>>>
Human Rights Action (HRA) condemns the latest arson of daily Vijesti vehicles, which represents yet another linked attempt to intimidate the owners and employees of this media outlet, in addition to the ruthless destruction of property.
It is unrealistic to expect anything anymore from the current state officials, police officers and the State Prosecutor's Office. We hope that they will be replaced by more efficient persons, who will stop Montenegro being the scene of attacks and other threats to freedom of expression, primarily directed against the journalists of Vijesti as well as other journalists and citizens who dare publicly criticize the state of the state.

>>>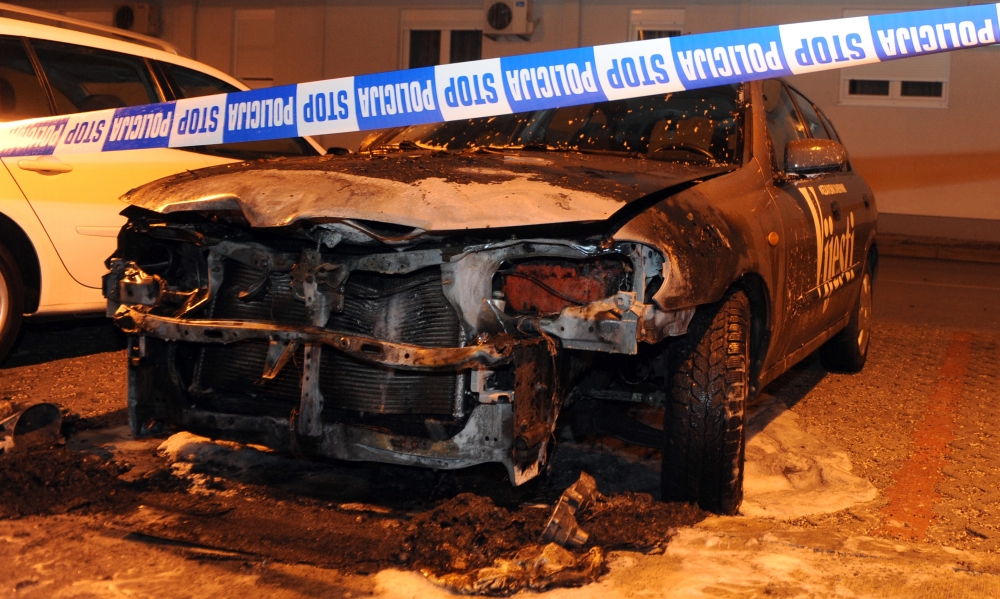 Foto: Savo Prelević, Vijesti
Akcija za ljudska prava osuđuje i posljednje paljenje vozila dnevnog lista Vijesti, koje očigledno, pored beskrupuloznog uništavanja imovine, znači još jedan u nizu pokušaja zastrašivanja vlasnika i zaposlenih u tom mediju.
Od istih nadležnih funkcionera i službenika policije i državnog tužilaštva nerealno je išta više očekivati. Nadamo se da će ih zamijeniti sposobniji, koji će učiniti da Crna Gora prestane da bude poprište napada i drugog ugrožavanja slobode izražavanja prvenstveno novinara Vijesti  i drugih novinara i građana koji se usuđuju da javno kritikuju stanje u državi.

>>>
Regarding the statement of the organizing committee of the conference "Word, Image and the Enemy", followed by feature within "Minut, dva" show on TV Pink M and text in "Pobjeda", which attempts to label the executive director of the CCE, Daliborka Uljarević, as a terrorist only because she warned of the possibility that protests, such as those in Bosnia and Herzegovina, may occur also in Montenegro, we condemn this act and request that the responsible state authorities for protection of human rights act and prevent drawing a target to opponents as well as attacks that are announced and encouraged at the expense of freedom of expression in Montenegro.
Text of the previously mentioned press statement of the organizing committee of conference "Word, Image and the Enemy" represents the latest attempt to intimidate non-governmental organizations in Montenegro and other critics of the authorities. In Montenegro there is a continuous campaign being conducted to prepare the Montenegrin public for violence against non-governmental organizations and other opponents of the ruling politicians and state officials. There is a persistent effort to convince the public that the key non-governmental organizations and their leaders are "criminals," "thieves," "violent," "war instigators" and that therefore one should fight them. Although we are aware that activists of non-governmental organizations as public figures are required to have a higher degree of tolerance for criticism, the latest reaction to the views of Daliborka Uljarević, in which she is extremely inappropriately being accused for "war propaganda," we perceive as announcement of confrontation, after the media, also with the key representatives of non-governmental organizations.

>>>
Povodom saopštenja organizacionog odbora konferencije "Riječ, slika i neprijatelj", praćenog prilogom u okviru "Minut, dva" emisije na TV Pink M i tekstom u "Pobjedi", kojim se pokušava izvršna direktorka CGO-a, Daliborka Uljarević označiti kao terorista samo zato što je upozorila na mogućnost da se protesti, poput onih u BiH dogode i u Crnoj Gori, osuđujemo ovaj čin i tražimo da nadležni državni organi za zaštitu ljudskih prava reaguju i spriječe crtanje mete neistomišljenicima i napade koji se najavljuju i podstiču nauštrb slobode izražavanja u Crnoj Gori.
Tekst pomenutog saopštenja organizacionog odbora konferencije "Riječ, slika i neprijatelj" predstavlja najnoviji pokušaj zastrašivanja nevladinih organizacija u Crnoj Gori i drugih kritičara vlasti. U Crnoj Gori se sprovodi kontinuirana kampanja pripremanja crnogorske javnosti za nasilje nad nevladinim organizacijama i drugim neistomišljenicima vladajućih političara i državnih funkcionera. Javnost se uporno pokušava ubijediti da su ključne nevladine organizacije i njihovi lideri "kriminalci", "lopovi", "nasilni", "ratni huškači" te da se sa njima treba obračunati. Iako smo svjesni da su i aktivisti nevladinih organizacija kao javne ličnosti dužni da imaju veći stepen tolerancije prema kritikama, posljednje reagovanje na stavove Daliborke Uljarević, u kojem se ona krajnje neumjesno optužuje za "ratnu propagandu", vidimo kao najavu obračuna, nakon medija, i sa ključnim predstavnicima nevladinih organizacija.

>>>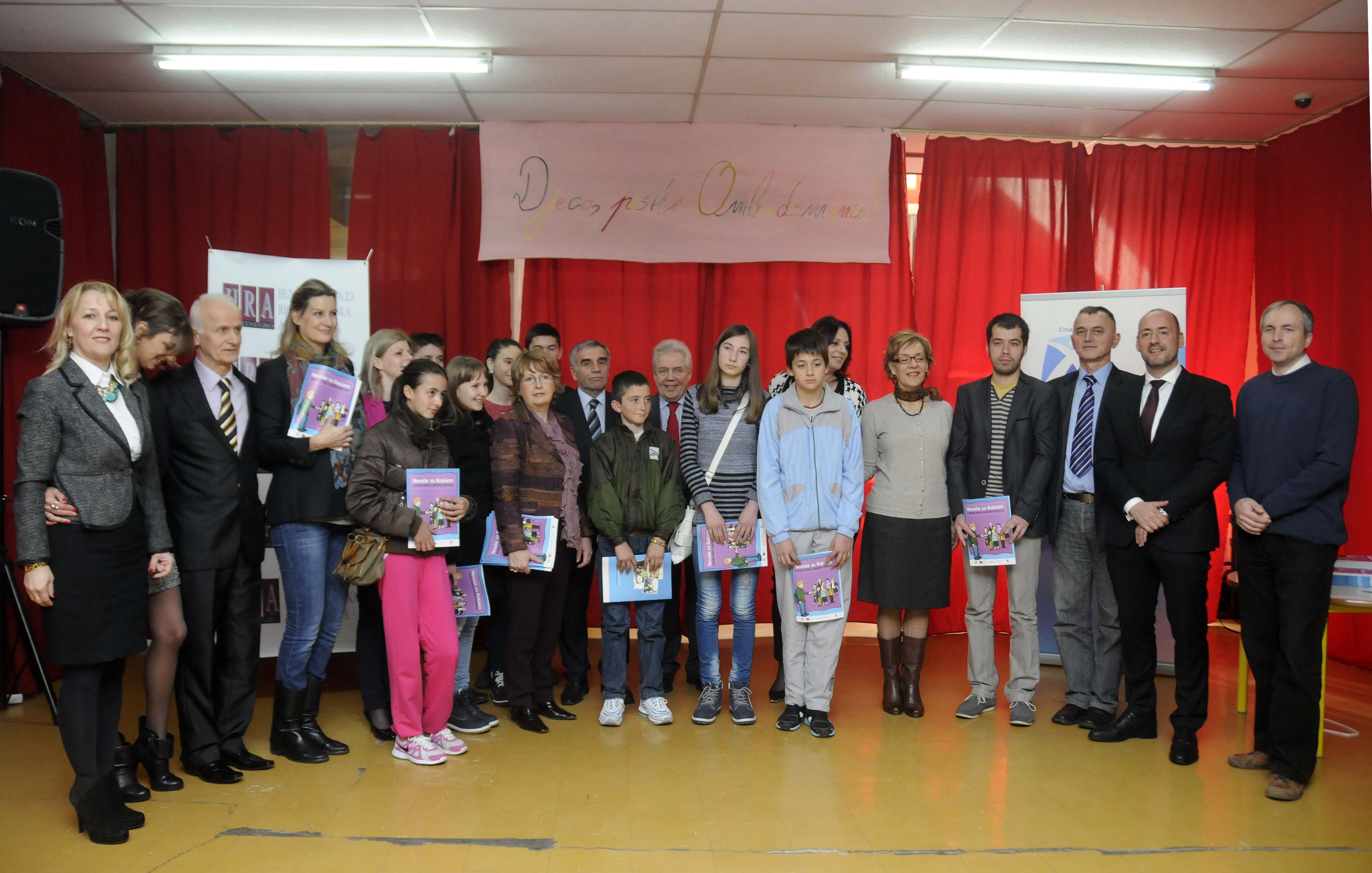 We are pleased to announce that the promotion of the comic book "Troubles with Roki and other stories about children's rights" will be held on Friday, 7 February of 2014 in "Radojica Perović" elementary school in Podgorica, starting at 11:30h.
This comic book was approved by the National Bureau for Education in December 2013 for use in elementary schools as teaching aid for subject Civic education, which is a novelty in the Montenegrin education system, and also a rarity in the world. The comic book was developed within the project "Children, write to the Ombudsman!" conducted by NGO Human Rights Action in cooperation with the Institution the Protector of Human Rights and Freedoms – the Ombudsman, with the support of UNICEF Montenegro, the Swiss Embassy in Belgrade and the British Embassy in Podgorica.

>>>
Sa zadovoljstvom Vas pozivamo na promociju stripa "Nevolje sa Rokijem i druge priče o dječjim pravima", koja će biti održana u petak, 7. februara 2014. u prostorijama Osnovne škole "Radojica Perović" u Podgorici, sa početkom u 11:30 h.
Ovaj strip je Nacionalni savjet za obrazovanje u decembru 2013. odobrio za upotrebu u osnovnim školama kao pomoćno nastavno sredstvo za predmet Građansko vaspitanje, što je novina u crnogorskom obrazovnom sistemu, a rijetkost i u svjetskim razmjerama. Strip je izrađen u okviru projekta "Djeco, pišite Ombudsmanu!" koji je NVO Akcija za ljudska prava sprovela u saradnji sa Institucijom zaštitnika ljudskih prava i sloboda – Ombudsmanom, zahvaljujući podršci UNICEF-a Crna Gora, Ambasade Švajcarske u Beogradu i Britanske ambasade u Podgorici.

>>>