– Preuzmite APEL ZA STROŽIJE KAŽNJAVANJE RASISTIČKOG NASILJA
Today was held a panel discussion on the work of the Commission for the monitoring of operation of competent authorities in investigating cases of threats and violence against journalists, murders of journalists and attacks on media property.
The summary of HRA report "Operation of the commission for monitoring investigation of attacks against journalists: the citizens' viewpoint" is available here  and recommendations for further action resulting from the debate are available here.

>>>
Danas je održana panel diskusija o radu Komisije za praćenje postupanja nadležnih organa u istragama slučajeva prijetnji i nasilja nad novinarima, ubistava novinara i napada na imovinu medija.
HRA izvještaj "Iz ugla građana – izvještaj o radu Komisije za praćenje istraga napada na novinare" je dostupan ovdje, a zaključci, spisak panelista i drugih učesnika ovdje.
Panel diskusija o radu Komisije za praćenje postupanja nadležnih organa u istragama slučajeva prijetnji i nasilja nad novinarima, ubistava novinara i napada na imovinu medija održaće se sjutra, u četvrtak 19. maja, sa početkom u 10h, u EU Info centru (ulica 19. decembar, u novoj zgradi preko puta stadiona Budućnost), u organizaciji HRA.
Uvod za raspravu je izvještaj HRA "Iz ugla građana – rad Komisije za praćenje istraga napada na novinare", čiji sažetak pogledajte ovdje.
Komisiji, koju je osnovala Vlada Crne Gore, na kraju prošle godine je istekao dvogodišnji mandat bez značajnijih rezultata. Komisija nije ostvarila osnovni zadatak zbog koga je osnovana – da na osnovu pregleda istraga koje je utvrdila kao prioritete pruži sveobuhvatno mišljenje o propustima u tim istragama i načinu na koji bi njihovo vođenje trebalo unaprijediti. Razgovaraćemo o tome zbog čega se to desilo, da li je potrebna nova Komisija i ako jeste, kako bi ona trebalo da bude ustrojena da bi djelotvornije radila.

>>>
The High Court in Podgorica confirmed the judgment of the Basic Court in Podgorica establishing that the defendant "Pink M company" in its news programme "A minute, two" injured the honor and reputation of the HRA director Tea Gorjanc – Prelevic and obliging it to pay thousand euros in damages and publish the judgment "in the same terms, the number of broadcasts," which means ten times during one day.
The Basic Court found that TV Pink M in its news program "A minute, two" unfoundedly claimed that Gorjanc-Prelevic, together with the international community invented sex trafficking affair of the Moldovan woman S.Č. in order to to influence Montenegrin political situation and therefore needed to go to jail. The Court established that defendant did not provide any evidence to substantiate the allegations.
The Agency for Electronic Media of Montenegro has recently found that TV Pink M has by the same report, as well as several other reports within its news programme, conducted a biased campaign to the detriment of Gorjanc-Prelević and HRA, and issued a warning to this media. The Media Self-Regulation Council also found that TV Pink M has on several occasions by reporting on HRA and its Executive Director violated the Code of Ethics of Montenegrin journalists.
On the occasion of the final judgment, Gorjanc-Prelevic stated: "I hope this judgment encourages further fighting dishonest journalism that serves selfish interests, groundlessly humiliates people and deceives the public. I will donate the award of damages to monitoring compliance of the Code of journalists in TV news programs and assistance in writing complaints of violations of journalistic ethics. "
The first and second instance judgments (in Montenegrin) are available here.
Potvrđena je presuda Osnovnog suda u Podgorici, kojom je utvrđeno da je tuženi "Pink M company" D.O.O. u emisiji "Minut, dva" televizije Pink M povrijedio čast i ugled direktorice HRA Tee Gorjanc-Prelević, i kojom je obavezan da joj isplati hiljadu eura odštete i objavi presudu "u istim terminima i broju emitovanja", što znači deset puta u toku jednog dana.
Osnovni sud je utvrdio da je televizija Pink M u svom informativnom programu "Minut, dva" neosnovano tvrdila da je Gorjanc-Prelević zajedno sa predstavnicima međunarodne zajednice izmislila aferu seks-trafikinga moldavske državljanke S.Č. da bi uticala na političke prilike u Crnoj Gori i da zbog toga treba da ide u zatvor. Sud je utvrdio i da tuženi za takve tvrdnje nije pružio bilo kakav dokaz.
Ranije je i Agencija za elektronske medije utvrdila da je televizija Pink M istim prilogom, kao i drugim prilozima u okviru svog informativnog programa protivzakonito sprovela neobjektivnu i pristrasnu kampanju na štetu Gorjanc-Prelević i Akcije za ljudska prava i izrekla opomenu tom mediju. Medijski savjet za samoregulaciju je takođe utvrdio u nekoliko navrata da je Pink M izvještavajući o Akciji za ljudska prava i njenoj direktorici prekršio Kodeks novinara Crne Gore.
Povodom pravosnažne presude, Tea Gorjanc-Prelević: "Nadam se da će ova presuda značiti ohrabrenje svima da se suprotstave nečasnom novinarstvu koje služi sebičnim interesima, neosnovano ponižava ljude i obmanjuje javnost. Dosuđenu naknadu doniraću za nadzor nad poštovanjem Kodeksa novinara u informativnim programima televizija i pomoć pri pisanju pritužbi zbog kršenja etike."
Ovdje možete preuzeti prvostepenu i drugostepenu presudu.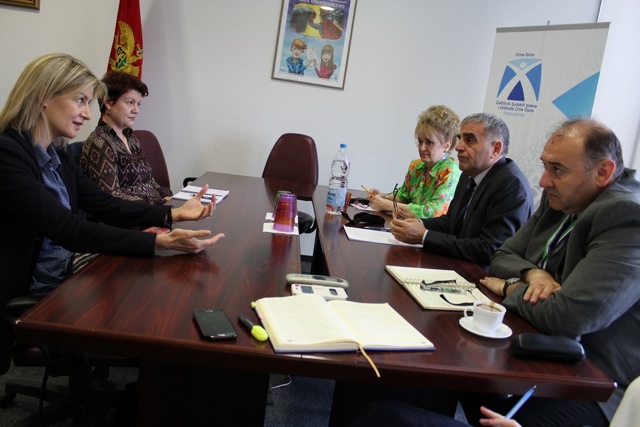 Zaštitnik ljudskih prava i sloboda Crne Gore Šućko Baković i njegovi zamjenici za oblast NPM i zaštite od diskriminacije, Zdenka Perović i Siniša Bjeković, održali su danas sastanak sa izvršnom direktorkom Akcije za ljudska prava (HRA) Teom Gorjanc Prelević i Mirjanom Radović, programskom direktorkom u toj organizaciji.
Razgovarano je na više tema u kojima se preklapaju interesovanja i djelovanja institucije Zaštitnika i HRA, s fokusom na prava lica lišenih slobode, položaj novinara i zaštitu od diskriminacije, a takođe su razmijenjena  mišljenja o postupanju u konkretim slučajevima. Na sastanku je razgovarano i o pripremama izvještaja HRA o poštovanju ljudskih prava zatvorenika kao i godišnjem izvještaju NPM-a, koji će biti predstavljeni u toku ovog mjeseca.
Gospođa Gorjanc Prelević je navela da poštuje pristup i rad Ombudsmana, ali da smatra da u nekim slučajevima preporuke moraju biti oštrije, u smislu da je potrebno više insistirati na kažnjivosti i traženju odgovornosti. Zaštitnik Baković je kazao da u instituciji ne nedostaje profesionalne hrabrosti u postupanju i da se ne libi da traži i krivičnu odgovornost, kada se za to steknu uslovi. On je naveo da je evidentan porast broja pritužbi koje građani dostavljaju Instituciji i da je za prva četiri mjeseca ove godine već dostignuto 80 % ukupnog broja pritužbi iz prošle godine.
Sagovornici su saglasni da je dobro što je organizovan sastanak jer kao subjekti na istom putu-unaprjeđenja i zaštite ljudskih prava i sloboda, mogu i treba da sarađuju više i konkretnije. U tom smislu potvrđeno je i učešće predstavnika Institucije na više događaja koje će uskoro organizovati HRA.
Human Rights Action (HRA) and Center for Monitoring and Research (CeMI) published results of the public opinion research "Attitudes of citizens about the judicial system in Montenegro", conducted by CeMI in March 2016 within the joint project "Judicial Reform Monitoring Project".
Strengthening citizens' confidence in the judiciary has continuously been one of the objectives of the judicial reform strategy in Montenegro, including the recent Strategy for the period 2014-2018. Action Plan for implementation of this Strategy 2014-2016 envisages conduct of surveys on attitudes of citizens in relation to the judiciary.
Download the research results here  Microsoft Power point PDF format


>>>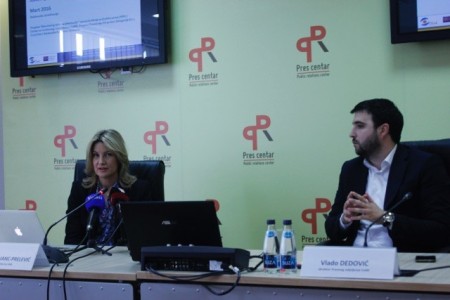 Objavljujemo rezultate istraživanja javnog mnjenja "Stavovi građana o pravosudnom sistemu u Crnoj Gori" koje je CeMI sproveo u martu 2016. godine u okviru zajedničkog projekta s Akcijom za ljudska prava "Monitoring reforme pravosuđa u Crnoj Gori".
Jačanje povjerenja građana u pravosuđe je u kontinuitetu jedan od ciljeva strategija reforme pravosuđa u Crnoj Gori, pa tako i posljednje Strategije za period od 2014-2018. Akcioni plan za primjenu te Strategije 2014-2016 predviđa istraživanja javnog mnjenja o stavovima građana u odnosu na pravosuđe.
Preuzmite rezultate istraživanja – Microsoft Power point, PDF format

>>>
U četvrtak, 05. maja sa početkom u 12h u prostorijama PR Centra održaće se press konferencija na kojoj će biti predstavljeni nalazi iz istraživanja javnog mnjenja o stavovima građana o pravosudnom sistemu Crne Gore. Istraživanje je sproveo Centar za monitoring i istraživanje CeMI tokom marta 2016. godine.
Istraživanje je sprovedeno u okviru projekta "Monitoring reforme pravosuđa" koji sprovode Akcija za ljudska prava HRA i Centar za monitoring i istraživanje CeMI i koji ima za cilj da se poveća učešće civilnog društva u procesu reforme pravosuđa i implementaciji Strategije i Akcionog plana za reformu pravosuđa 2014-2018.
Na konferenciji će govoriti Tea Gorjanc Prelević – direktorica Akcije za ljudska prava i Vlado Dedović – direktor Pravnog odjeljenja CeMI- ja.
Montenegro is not providing sufficient conditions for development of free and critical journalism. On the one hand, there is no progress in solving and punishing the most serious cases of violence against critical journalists, and on the other, the practice of the courts in civil proceedings against the media to protect the honor and reputation is still not in line with case law of the European Court of Human Rights on freedom of expression. The unfavorable environment created by the lack of rule of law adds to poor economic conditions for the survival of the media and development of investigative journalism on the small market of Montenegro.
HRA recalls that since last year there has been no concrete progress in revealing the masterminds and perpetrators of the murder of the Editor in Chief of the daily Dan, Duško Jovanović, while the only accused accomplice has again been convicted for involvement in the murder. In the meantime, no result has come from the suspended investigation on the attempted murder on the journalist Tufik Softić from 2007, while the investigation into the circumstances of planting an explosive device in front of his house in 2013 has seen no progress. No further information has neither emerged about the investigation on the attack on the writer Jevrem Brković and killing of his companion Srđan Vojičić, on the attack on journalist Mladen Stojović, nor on the burning of cars that were property of the daily Vijesti, and were accused of "bombing" on Vijesti, then acquitted. (More detailed information about the prosecution of all reported attacks on journalists and threats against journalists will soon be published in special report by HRA). HRA reminds that, according to the European Court of Human Rights, a quick response by the authorities in the investigations is essential for public confidence in the ability of the authorities to maintain the rule of law, as well as to prevent any appearance of collusion with the perpetrators of the attack power or to tolerate serious crimes.

>>>
The Psychiatric clinic of the Clinical centre of Montenegro works in miserable conditions, which are below minimum standards of the European Committee for the Prevention of Torture and other Inhuman or Degrading Treatment or Punishment (CPT). The Clinic is located in a single-storey building on Kruševac in Podgorica, with one portion of it already collapsing, while its relocation or at least complete reconstruction is not being planned at all.
The Ministry of Health has so far only promised that they intend to improve generally poor material conditions at the Clinic (capacity 40 beds) by making efforts to obtain funds from foreign donors for the restoration of "bedding fund". HRA appealed to the Ministry to review priorities and provide resources for adequate conditions for accommodation of patients and the work of the Clinic. Funding from the state budget has recently been provided for far less important objectives (eg. the promotion of tourism and sport) from surpluses in other ministries, which could have been directed to the repair of the state of Clinic if the Ministry had it as a priority.

>>>
Crna Gora ne obezbijeđuje dovoljne uslove za razvoj slobodnog, kritičkog novinarstva. S jedne strane nema napretka u rasvjetljavanju i kažnjavanju najtežih slučajeva nasilja prema kritičkim novinarima, a sa druge praksa sudova u građanskim postupcima protiv medija za zaštitu časti i ugleda i dalje nije usklađena sa praksom Evropskog suda za ljudska prava o slobodi izražavanja. Nepovoljnom ambijentu nedostatka vladavine prava doprinose i loše ekonomske prilike za opstanak medija i razvoj istraživačkog novinarstva na malom tržištu Crne Gore.

Podsjećamo da ni protekle godine nije došlo do napretka u otkrivanju nalogodavaca i izvršilaca ubistva glavnog urednika dnevnog lista Dan, Duška Jovanovića, dok je jedini okrivljeni saizvršilac ponovo pravosnažno osuđen za učešće u tom ubistvu; da je u međuvremenu bez rezultata obustavljena istraga pokušaja ubistva novinara Tufika Softića iz 2007. godine, dok u istrazi okolnosti postavljanja eksplozivne naprave pred njegovom kućom 2013. nije bilo napretka; nije bilo nikakvih novih obavještenja ni o istragama napada na pisca Jevrema Brkovića i ubistvu njegovog pratioca Srđana Vojičića, na novinara Mladena Stojovića, ni o paljenju automobila dnevnog lista Vijesti, dok su okrivljeni za "bombaški napad" na Vijesti u međuvremenu oslobođeni optužbe. (Detaljnije informacije o procesuiranju svih prijavljenih napada na novinare i prijetnji novinarima biće objavljene u posebnom izvještaju Akcije za ljudska prava). Podsjećamo da je, prema evropskim standardima utvrđenim u praksi Evropskog suda za ljudska prava, brz odgovor vlasti u istragama bitan za povjerenje javnosti u sposobnost vlasti da održi vladavinu prava, kao i za sprječavanje utiska o bilo kakvom dosluhu vlasti sa izvršiocima napada ili o tome da se tolerišu teška krivična djela.

>>>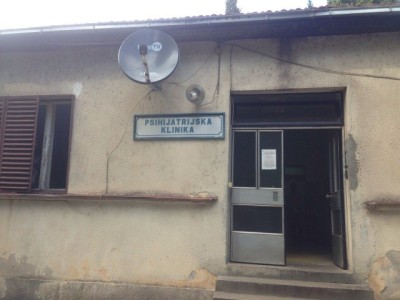 Klinika za psihijatriju Kliničkog centra Crne Gore radi u mizernim uslovima koji su ispod minimalnih standarda Evropskog komiteta za sprječavanje mučenja i drugog nečovječnog ili ponižavajućeg postupanja ili kažnjavanja (CPT). Klinika se nalazi u trošnoj prizemnoj zgradi na Kruševcu u Podgorici, čiji se jedan dio već urušio, a njeno izmještanje ili bar temeljna rekonstrukcija nije ni u planu.
Ministarstvo zdravlja je za sada jedino obećalo da će sveukupno loše opšte materijalne uslove na Klinici (kapaciteta 40 kreveta) unaprijediti tako što će nastojati da obezbijedi sredstva stranih donatora za obnovu "posteljnog fonda". Apelovali smo na Ministarstvo da preispita prioritete i obezbijedi sredstva za adekvatne uslove za smještaj pacijenata i rad Klinike. Svjedoci smo da se za neuporedivo manje važne ciljeve (npr. promociju turizma ili sport) svako malo pojavljuju viškovi sredstava u drugim ministarstvima, koji su mogli biti usmjereni na saniranje stanja na Klinici da je Ministarstvo to imalo za prioritet.

>>>
HRA will request from the Prosecutorial and Judicial Council of Montenegro to examine actions of the competent state prosecutors and judges in the case in which Veselin Piletić was acquitted of charges for the crimes of murder and extraction after 17 years. For almost seventeen years Piletić has been living under a criminal charge for which even fifteen years ago, when he was first acquitted, the court determined that there was no evidence supporting the indictment.
On the other hand, the murder of Milan Paljević remained unpunished, for which Piletić was convicted, while no investigation of this murder continued since 1999 when Piletić was charged for the murder.
Montenegrin judiciary must demonstrate that it is capable to learn on mistakes and that concrete measures preventing pursuing such hopeless and long criminal proceedings will be taken.
Piletić spent more than a year in custody, his passport was taken away for 17 years, while all dramatic consequences of living under a criminal charge cannot even closely be compensated with "just satisfaction" of two thousand euros, that the Supreme Court adjudicated him in 2013 for violation of his right to trial within a reasonable time in the proceedings that at the time already lasted over thirteen years (judgment Tpz. 4/2013). The Supreme Court found several extended periods of inactivity in the proceedings, whereby only in one specific period there was no action for over 15 months. At the same time the Court found that the defendant did not contribute in any way to the length of proceedings.
In this case the behaviour of the State Prosecutor's Office is particularly questionable. It insisted on the charges on the basis of two highly controversial evidences – one illegal evidence – paper with alleged written confession of the accused – whose origin prosecutors did not want to disclose, and the testimony of an unreliable witness, who has changed his testimony several times and whose mental illness had been documented in a timely manner.

>>>