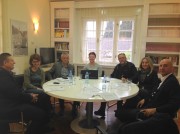 U petak je u organizaciji Akcije za ljudska prava (HRA) održan završni sastanak predstavnika medijskih samoregulatornih tijela na kojem su usvojeni zaključci i više od 40 preporuka kako unaprijediti etično novinarstvo u Crnoj Gori. Time je okončan projekat Nastavak debate o primjeni Kodeksa novinara Crne Gore, koji je bio posvećen ujednačavanju primjene Kodeksa novinara Crne Gore i unapređenju međusobne saradnje medijskih samoregulatora, koji je podržala Britanska ambasada u Podgorici.
Učesnici Amer Ramusović (predsjednik Samoregulatornog savjeta za lokalnu i periodičnu štampu), Božena Jelušić (ombudsmanka Vijesti do kraja 2014), Paula Petričević, (ombudsmanka Monitora), Ilija Jovićević, (ombudsman Dana) i Goran Đurović i Dragana Tripković, (predsjednik i članica Komisije Savjeta RTCG za razmatranje predstavki i prigovora slušalaca i gledalaca) su prethodno razgovarali o plagiranju medijskih sadržaja, uvredljivom govoru i govoru mržnje, poštovanju pretpostavke nevinosti, poštovanju prava na privatnost, uravnoteženom i nepristrasnom izvještavanju, korišćenju anonimnih izvora i prava na ispravku i odgovor. U ime HRA, okrugle stolove je moderirao g-din Dragoljub Duško Vuković.

>>>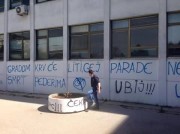 Akcija za ljudska prava i Centar za ženska prava oštro osuđuju pojavu homofobnih grafita koji su juče osvanuli na fasadi zgrade Filozofskog fakulteta u Nikšiću i govor mržnje na internet forumima.
Poražavajuće je saznanje da studenti Filozofskog fakulteta, akademski građani, na bilo koji način zagovaraju mržnju i netrpeljivost.
Pozivamo građane Nikšića i Crne Gore da odole govoru mržnje i homofobiji i razmisle o budućnosti svog grada i Filozofskog fakulteta. Želimo li da nam djeca odrastaju otrovana mržnjom prema različitostima? Da uče humanističke nauke u instituciji sa čijih fasada huligani pozivaju na ubijanje?

>>>
HRA is surprised at the decision of the Constitutional Court not to decide with priority on initiative and proposal for review of constitutionality and legality of the Decree on the Method of Setting Maximum Retail Prices of Petroleum Products.
According to the Constitutional Court statement (published by the agency Mina-business), the judges do not consider that the decision on the most recent price increase of consumer goods such as fuel, is an issue of a "wider social significance", which would give it priority in decision-making.

>>>
Začuđeni smo odlukom Ustavnog suda da ne uzme u prioritetno odlučivanje inicijativu i predlog za ocjenu ustavnosti i zakonitosti Uredbe o načinu obrazovanja maksimalnih maloprodajnih cijena naftnih derivata.
Prema izjavi Ustavnog suda (koju je objavila agencija Mina-business), sudije ne smatraju da je odlučivanje o najnovijem poskupljenju robe široke potrošnje kao što je gorivo, pitanje koje ima "širi društveni značaj", što bi mu omogućilo prioritet u odlučivanju.

>>>
The judge of the Basic Court in Podgorica, Aleksandar Stojanović, fully dismissed the claim of NGO Human Rights Action Executive Director, Tea Gorjanc-Prelević, for compensation of damages and publication of the judgment against the defendant, founder of the daily Informer, "Insider team," Ltd Belgrade – part of foreign company based in Podgorica, represented in Montenegro by Novak Uskoković.
Judge Stojanović found that, although Informer published offensive allegations also at the front page as well stating that Gorjanc-Prelević was a "hypocrite", a "so-called human rights activist" and that her behaviour was "disgraceful" were based on completely incorrect facts, which daily Informer also published – that she advocated for criminalisation of Defamation and for shutting daily Informer down, "the dominant interests of pluralism of opinions on a topic of public interest in a democratic society, such as (de)criminalization of Defamation in relation to the open topic of (in)coherence of public figures advocating for such a legal solution and (not) shutting down any media… as this court believes, do not indicate the need for the civil sanction of the defendant. "

>>>
HRA obavještava javnost da je sudija Osnovnog suda u Podgorici Aleksandar Stojanović u potpunosti odbio kao neosnovan tužbeni zahtjev izvršne direktorke NVO Akcija za ljudska prava, Tee Gorjanc-Prelević za naknadu štete i objavljivanje presude protiv tuženog osnivača dnevnog lista Informer, "Insajder tim", DOO Beograd – dio stranog društva Podgorica, koga u Crnoj Gori zastupa Novak Uskoković.
Sudija Stojanović je utvrdio da iako su uvredljivi navodi Informera, iznijeti i na naslovnoj strani, da je Gorjanc-Prelević "licemjer", "navodni aktivista za ljudska prava", i da se ponaša "sramno", bili utemeljeni na potpuno netačnim činjenicama, koje je Informer takođe objavio – da se zalagala za povratak krivičnog djela Kleveta u Krivični zakonik Crne Gore i za gašenje Informera, da "dominantni interesi pluralizma mišljenja o temi koja jeste od javnog interesa u pretendujuće demokratskom društvu, a takva je (de)kriminalizacija klevete u vezi sa otvorenom temom o (ne)doslednosti javnih ličnosti koje se zalažu za takvo zakonsko rješenje i (ne)gašenje bilo kog medija… mišljenja je ovaj sud, ne upućuju na potrebu građanskopravnog sankcionisanja tuženog."
Sudija je zaključio da je "tužilja, po zahtjevima svog angažmana dužna trpjeti javne kritike sa većim pragom tolerancije. Čak i ako su ove netačne, uznemirujuće, štetne."
Tea Gorjanc-Prelević: "Žaliću se protiv presude kojom se ohrabruju i Informer i drugi mediji da opušteno vode kampanje blaćenja ljudi na javnoj sceni, utemeljene na 100% lažima, samo ako to nekako povežu sa temom od javnog interesa. Takva sloboda izražavanja ne uživa zaštitu u evropskom demokratskom društvu i potrudiću se da Višem sudu to dokažem pozivanjem na praksu Evropskog suda za ljudska prava na sveobuhvatniji način nego što je to učinjeno u prvostepenoj presudi. Posebno iznenađuje odluka suda da zanemari to da je tuženi sporne navode objavio motivisan ličnim animozitetom prema meni, o čemu je govorio u svojoj odbrani, a ne u javnom interesu debate o dekriminalizaciji."
Presuda Osnovnog suda u Podgorici je ovdje.
During last week, Montenegrin Parliament has adopted amendments to the Law on Non-litigation Procedure and the Law on Free Legal Aid.
The amendments to the Law on Non-litigation Procedure, among other improvements, provided better safeguards that guide the respect of human rights of forcibly hospitalized persons in psychiatric institutions. In accordance with the HRA proposal, when deciding on involuntary hospitalization, it is now regulated that persons taking part in these proceedings must have an attorney, or if they are not able to afford the attorney services, they must enjoy a right to free legal aid. Also, as proposed by HRA, a court is obliged to hold the hearing at the psychiatric institution and take a statement from the person considering hospitalizing, if that person is capable to comprehend the importance and legal consequences of his/her legal participation. Furthermore, another adopted proposition given by HRA specified that an independent expert, who is not working in the psychiatric institution, will evaluate the ability of persons involved in these proceedings, and considers whether the reasons behind involuntary hospitalization are justified.

>>>
Skupština je ove nedjelje između ostalih usvojila dva Zakona o izmjenama i dopunama, i to Zakona o vanparničnom postupku i besplatnoj pravnoj pomoći.
Izmjenama Zakona o vanparničnom postupku obezbjeđene su, pored ostalog, i bolje garancije poštovanja ljudskih prava prisilno hospitalizovanih osoba u psihijatrijskoj ustanovi. Na predlog Akcije za ljudska prava (HRA), propisano je da prisilno hospitalizovana osoba u toku postupka odlučivanja o prisilnoj hospitalizaciji mora imati advokata, odnosno pravo na besplatnu pravnu pomoć ako nije u mogućnosti da obezbijedi advokata. Dodatno je propisana i obaveza suda da ročište u postupku odlučivanja o prisilnoj hospitalizaciji održi u samoj ustanovi i sasluša osobu o čijoj hospitalizaciji odlučuje, ako je ona sposobna da shvati značaj i pravne posledice svoga učešća u postupku. Usvojen je i predlog HRA da se o toj sposobnosti osobe, kao i opravdanosti razloga za prisilni smještaj, odlučuje na osnovu mišljenja nezavisnog vještaka, koji nije zaposlen u samoj ustanovi.

>>>
Following the final judgment of the Basic Court in Podgorica, non-governmental organizations requested the Supreme State Prosecutor to act in public interest of human rights protection and determine the personal responsibility of competent officers and officials of the State Prosecutor's Office and the Police, who have, as it has been determined by a final court decision, by breaking a series of laws and the Constitution of Montenegro violated the human rights of privacy of employees in the NGO Network for Affirmation of NGO Sector (MANS).
The letter (in Montenegrin) is available here.
The Basic court in Podgorica judgment (in Montenegrin) is available here.
The High Court in Podgorica judgment (in Montenegrin) is available here.
The decision of the Ministry of Interior is available here.
Posle pravosnažne presude Osnovnog suda u Podgorici, nevladine organizacije traže u pismu od Vrhovnog državnog tužioca da u javnom interesu zaštite ljudskih prava utvrdi ličnu odgovornost onih nadležnih službenika i funkcionera državnog tužilaštva i Uprave policije, koji su, kako je pravosnažno utvrđeno u parničnom postupku, kršenjem niza zakona i Ustava Crne Gore prekršili ljudsko pravo na privatnost zaposlenih u NVO Mreža za afirmaciju nevladinog sektora (MANS).
Detaljnije u pismu koje je dostupno ovdje.
Presuda Osnovnog suda Podgorica
Presuda Višeg suda u Podgorici
NGO Human Rights Action (HRA) executive director, Tea Gorjanc-Prelević, filed a lawsuit for compensation of damages and publication of the judgment against TV Pink M, whose director in Montenegro is Goran Radenović, due to false and offensive allegations placed by this television in January and February in its news programme "Minut, dva".
TV Pink M has on 30 January and 19 February 2015, at least ten times during the day published false and offensive allegations that Gorjanc-Prelević has had an active role in inventing the S.Č affair, and thus tried to influence the political situation in Montenegro, and therefore should be punished by imprisonment, as well as that she belongs to the "anti-government bloc".
Tea Gorjanc-Prelević: "This lawsuit is an attempt in both personal and public interest to oppose the practice of TV Pink M to deceive the public with false information and abusing freedom of media for personal purposes. Viewers of this television should know that its news programme should not be trusted. "
The lawsuit (in Montenegrin) is available here.
HRA team
Izvršna direktorica NVO Akcija za ljudska prava, Tea Gorjanc-Prelević, podnijela je tužbu za naknadu štete i objavljivanje presude protiv televizije Pink M, čiji je direktor u Crnoj Gori Goran Radenović, zbog netačnih i uvrjedljivih navoda koje je ova televizija o njoj plasirala u januaru i februaru u svojim informativnim emisijama "Minut, dva".
U dva navrata, 30.1.2015. i 19.2.2015. televizija Pink M je najmanje deset puta u toku dana objavila netačne i uvrjedljive navode o tome da je Gorjanc-Prelević imala aktivnu ulogu u izmišljanju afere S.Č, i da je time pokušala da utiče na političke prilike u Crnoj Gori, i da zbog toga treba da bude kažnjena zatvorom, kao i da pripada "antivladinom bloku".
Izjava Tee Gorjanc-Prelević: "Tužba je pokušaj da se u ličnom, ali i javnom interesu suprotstavim praksi televizije Pink M da lažnim informisanjem obmanjuje javnost i zloupotrebljava slobodu medija u privatne svrhe. Gledaoci te televizije treba da znaju da njenom informativnom programu ne treba vjerovati."
Tužba je dostupna ovdje.
Tim Akcije za ljudska prava
NGO Human Rights Action (HRA) strongly condemns incitement to hatred and religious intolerance expressed through recent repeated attacks on the Muslim community in Montenegro by unknown perpetrators. Last week the Islamic community headquarters in Novi Bar (Džemat Novi Bar) have been stoned for three times, and it is particularly concerning that, according to media reports, similar attacks happened in Bijelo Polje and Tivat.
HRA urges the police to persist in finding and identifying the perpetrators of these attacks, and the prosecutor's office to insist on establishing criminal liability which would imply more severe punishments for these and other hate crimes.
It was determined last year that minors were responsible for hate speech graffiti in schools in Tivat and Donja Lastva. Therefore, we urge schools and parents to condemn such incidents and provide that children timely recognize that such incidents threaten not only the Islamic community, but the democratic state as well in which people of different religious and other beliefs live and where human rights of all should be respected.
HRA team
Akcija za ljudska prava osuđuje podsticanje mržnje i vjersku netoleranciju izraženu kroz skorašnje ponovljene napade nepoznatih počinilaca na muslimansku zajednicu. U toku prethodne sedmice tri puta su kamenovane prostorije Džemata Novi Bar, a posebno zabrinjava što su, prema navodima medija, prethodnih dana slični napadi počinjeni u Bijelom Polju i Tivtu.
Apelujemo na policiju da istraje u pronalaženju i identifikovanju počinilaca ovih napada, a tužilaštvo da insistira na utvrđivanju krivične odgovornosti koja za ove i druge zločine počinjene iz mržnje podrazumijeva i strože kažnjavanje.
Podsjećamo da je ranije utvrđeno da su za grafite s govorom mržnje na školama u Tivtu i Donjoj Lastvi bili odgovorni maloljetnici. Zbog toga posebno apelujemo na škole i roditelje da osude ovakve incidente i obezbijede da ih i djeca blagovremeno prepoznaju kao prijetnju ne samo islamskoj zajednici, već i demokratskom uređenju države u kojoj se zajednički živi s ljudima različitih vjerskih i drugih uvjerenja uz poštovanje ljudskih prava svih.
Tim Akcije za ljudska prava
Human Rights Action (HRA) urges the Commission for monitoring actions of the competent state authorities regarding the investigations of old and recent cases of intimidation and violence against journalists, murders of journalists and attacks on media property to publish a report on its operation and thus improve the transparency of its work. HRA expects that the Commission will present the results of its work, or the reasons for lack of them, within the official report on the first year of its operation. Given the importance of the task performed by the Commission and the public interest it protects, citizens deserve official information about its work, achievements or any possible obstructions it faces.
Since the establishment of the Commission in February last year (2014), only the first report on the work of the Commission from May 2014 is publically available on the Government's official webpage. The decision on establishing the Commission envisages that it should submit reports on its work to the Government every four months. So far, a total number of three reports should have been submitted to the Government.
It's been a year since the establishment of the Commission, and the media reported that in January 2015 the Government extended its mandate for another year.
The President of the Commission, Nikola Marković, said earlier that the Commission faces obstructions by the executive power, lack of political will to clarify the attacks, as well as institutional obstructions, which is reflected in the fact that the Commission has been denied access to relevant data. HRA believes that it is necessary to discuss this issue at a meeting of the Commission and that the findings after the first year of its work should be published in the form of an official report. HRA reminds that the Commission consists of journalists i.e. a journalist who is a representative of the NGO sector, and of other representatives of state authorities – the police, the State Prosecutor's Office and the National Security Agency.