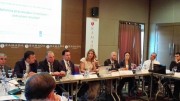 The 1st National Conference on the Judicial Reform Process, under working title: "Judicial Reform in Montenegro – results achieved" has been held in Podgorica today.
The Conference was organised by NGO Human Rights Action (HRA) and NGO Center for Monitoring and research (CeMI), in cooperation with the Ministry of Justice within the Judicial Reform Monitoring Project, supported by the EU through the IPA 2013 Civil Society Facility Montenegro programme and the Kingdom of Netherlands through MATRA programme. The Conference was attended by judges, court presidents, public prosecutors, representatives of the Ministry of Justice, the Judicial Council, the Association of Judges of Montenegro, Association of State Prosecutors of Montenegro, Bar Association, Notary Chamber, Chamber of Public Executors, Centre for Mediation, non-governmental organizations, international organizations and diplomatic representatives.
At the opening session, the audience was addressed by Mr. Zoran Pažin, the Minister of Justice, Ms. Annalisa Giansanti, Political Affairs Advisor at the EU Delegation to Montenegro, Mr. Aleksandar Momirov, representative of Embassy of the Kingdom of the Netherlands, Ms. Stanka Vučinić, Deputy President of the Supreme Court of Montenegro, Mr. Ivica Stanković, Supreme State Prosecutor of Montenegro, Ms. Tea Gorjanc Prelević, HRA Executive Director and Mr. Zlatko Vujović, President of the Governing Board of CeMI. Opening the conference, Ms. Gorjanc Prelević said that the aim and motive of HRA and CeMI engagement in the project "Monitoring of Judicial Reform", implemented in cooperation with the Ministry of Justice, was to "contribute that the reform is not carried out endlessly, to prevent prescribing the same strategic objectives as before, but complete the reform successfully during the following three years, as provided by the current Judicial Reform Strategy for the period 2014-2018. This can be achieved by objectively examining the results of the reforms, for which we have gathered here today. "
Three panels have been held within the Conference: "Election, evaluation, promotion and determining liability of judges and prosecutors", "Transparency and accessibility of judicial institutions – the requirement for increasing public confidence in the judiciary" and "The development and role of the judicial professions and other professions in the function of the judiciary in the reform process" at which the high representatives from the judiciary institutions and professions, the media and CSOs spoke. HRA expects comments to the report, which conclusions and recommendations point to the need for an amendment of Action plans for the implementation of the Judicial Reform Strategy for the period 2014-2018 and the Action Plan for Chapter 23 in relation to the judiciary.
The Draft Report on Realization of the Judicial Reform Strategy for the period 2007-2012 was presented at the Conference. The report is available here (in Montenegrin). Introduction and Recommendations of the Report (in English) are available here.
The Agenda of the Conference is available here.
The speeches (in Montenegrin) are available here.
HRA team
*    *    *
Pres clipping of the Conference:
Daily Dan, page 6
Daily Vijesti, page 13
Daily Dnevne novine, page 16
Daily Pobjeda, pages 6 i 7
*    *    *