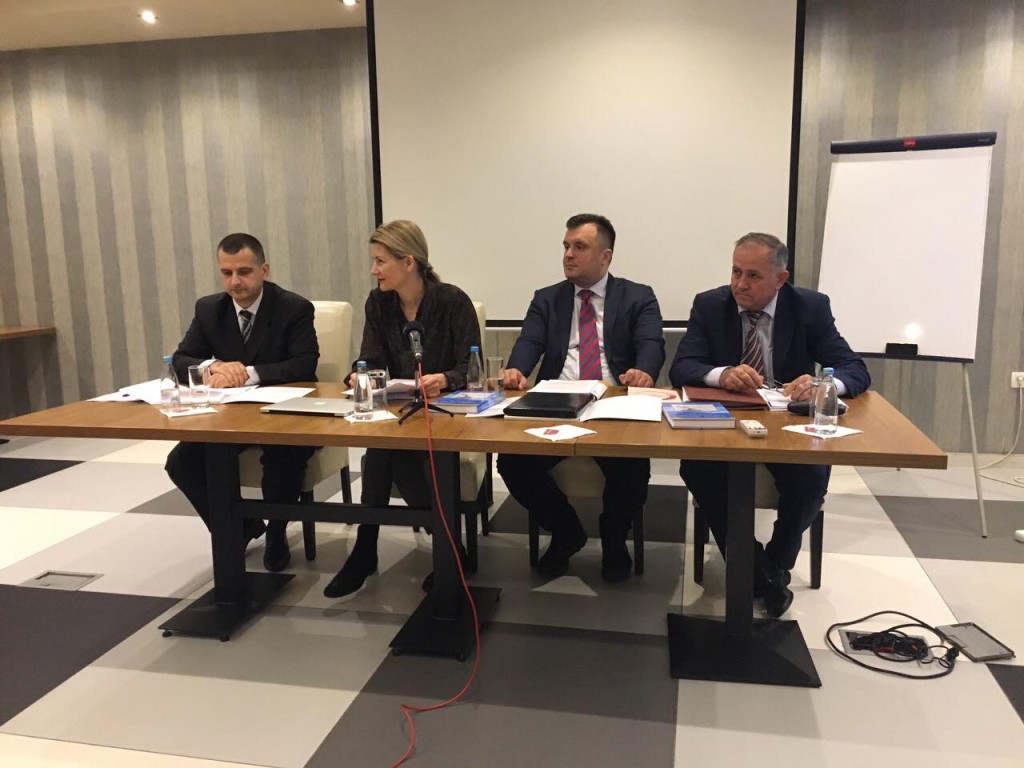 Human Rights Action (HRA) and Center for Monitoring and Research (CeMI) organized in the past three days (14-16 February) discussions in Bijelo Polje, Podgorica and Bar, focusing on report on the rationalization of the court network in Montenegro drafted by CeMI. The discussions were attended by representatives of the judiciary and the Public Prosecutor's Office, representatives of municipalities, lawyers and NGOs.
The report shows that Montenegro has twice as much courts and judges as European average, which is why the second phase of rationalization of the court network should be focused on reducing the number of first instance courts. However, it was emphasized that it is necessary that this phase be based on a thorough analysis of the data,  which was omitted in the Government adopted medium-term plan for the rationalization of the court network for the period 2017 – 2019.
HRA executive director, Tea Gorjanc-Prelević, emphasized the importance of public hearings for adoption of sustainable solutions and that public discussions in recent days organized by HRA and CeMI were first public discussion of the need for rationalization of the court network and prosecutor's offices, although the Government already adopted three analysis of needs of rationalization (2009, 2013 and 2015) and two plans for rationalization.
President of the CeMI Board, Zlatko Vujović, said that the average number of judges per 100 thousand inhabitants in the member states of the Council of Europe is 21 and in Montenegro 41. He also said that the existing court network in Montenegro remains "very dense" to individual courts that according to European standards and criteria cannot justify their existence, for example, the Basic court in Danilovgrad, Basic court in Žabljak and the Basic court in Plav.
In the discussion in Bijelo Polje the uneven workload of judges and the number of  cases of different complexity was highlighted, as well as insufficient analysis to conclude that the courts in Žabljak, Danilovgrad and Plav should be abolished with regard to access to the courts by citizens. The discussion in Podgorica pointed out the need not to decide hastily, but on the basis of data that would be collected through comprehensive analysis of various factors affecting the efficient operation of the courts and required number of judges and courts, and during discussion in Bar the emphasis was on the criticism of the Government's plan that the Basic Court in Cetinje merges territorial jurisdiction of Budva. The proposal from CeMI report that the Ministry of Justice should form a working group that will, on the basis on fundamental analysis based on all the necessary quantitative data, as soon as possible prepare a new document on the rationalization of the court network was supported.
The report on the rationalization of the court network in Montenegro was created under the project "Judicial Reform Monitoring", implemented by HRA and CeMI with financial support from the European Union and the Kingdom of the Netherlands.
Bijelo Polje
Podgorica
Bar