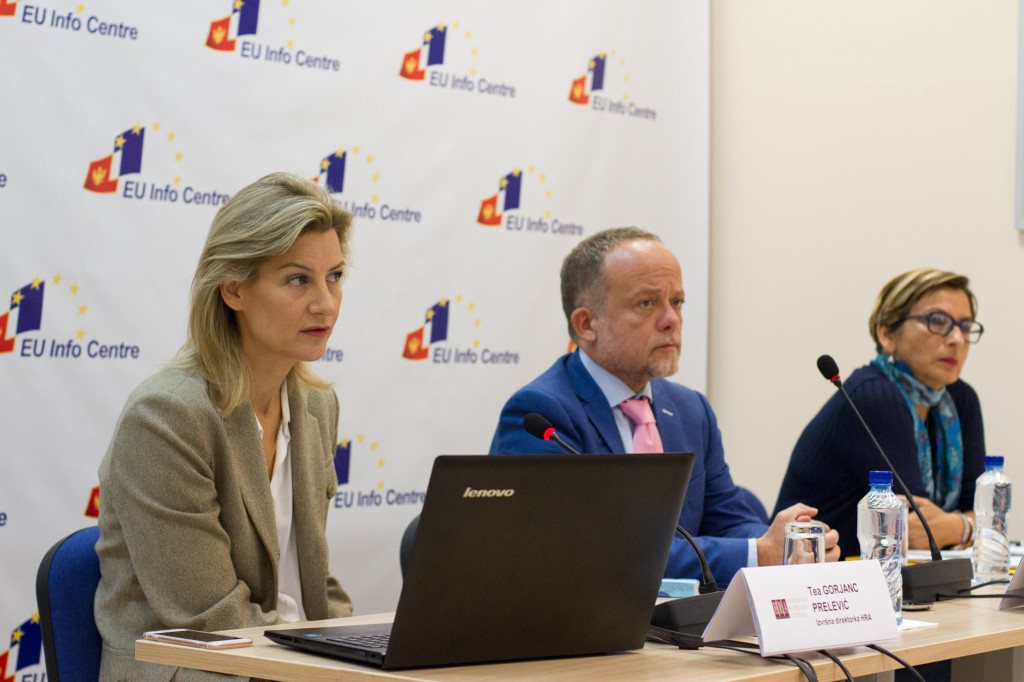 On World Mental Health Day NGO Human Rights Action (HRA) and the Center for Women and Peace Education (ANIMA) presented the results of the public   opinion poll on  general perception of mental health issues and social distance towards people with mental health illness.  The poll was conducted in cooperation with the agency Ipsos Strategic Marketing, within the project  "Beyond exclusion – effective rights for mental health patients," supported by the European Union through the EU Delegation to Montenegro.
The research results in Montenegrin language are available here: Power Point Presentation, PDF Format.
At the conference spoke Mrs. Tea Gorjanc Prelević, HRA executive director, Ljupka Kovačević, ANIMA coordinator and Radoje Cerović, psychologist, noting the following:
Radoje Cerović: "Research indicates a high degree of lack of information, taboos surrounding these issues and prejudices. Indecision in the responses indicates a tendency to give desired answers, probably as a result of fear and ignorance related to this topic. The tendency of stigmatisation and the need to distance oneself, move away, the prevalence of stereotypes and retrograde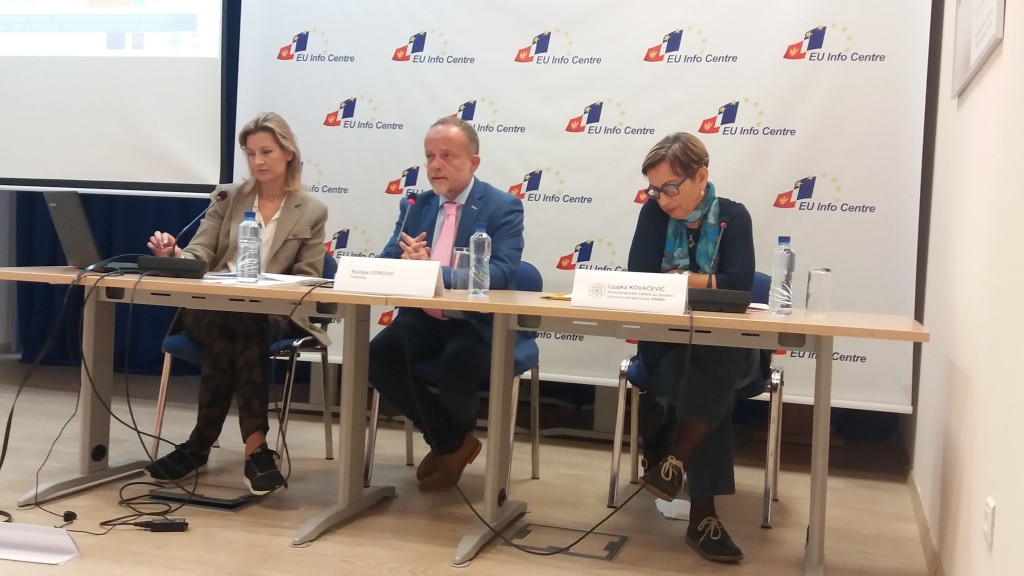 attitudes are just some of the research findings. In absolute terms and in comparison with Bosnia and Herzegovina, situation is worrying, prejudice and retrograde attitudes are more prominent in Montenegro than in Bosnia and Herzegovina, where the same survey was conducted (e.g. 32% of respondents in Bosnia and Herzegovina think that the best is to avoid someone with a mental disease and in Montenegro even 64% of respondents, twice as much). Negative attitudes of young people are particularly concerning."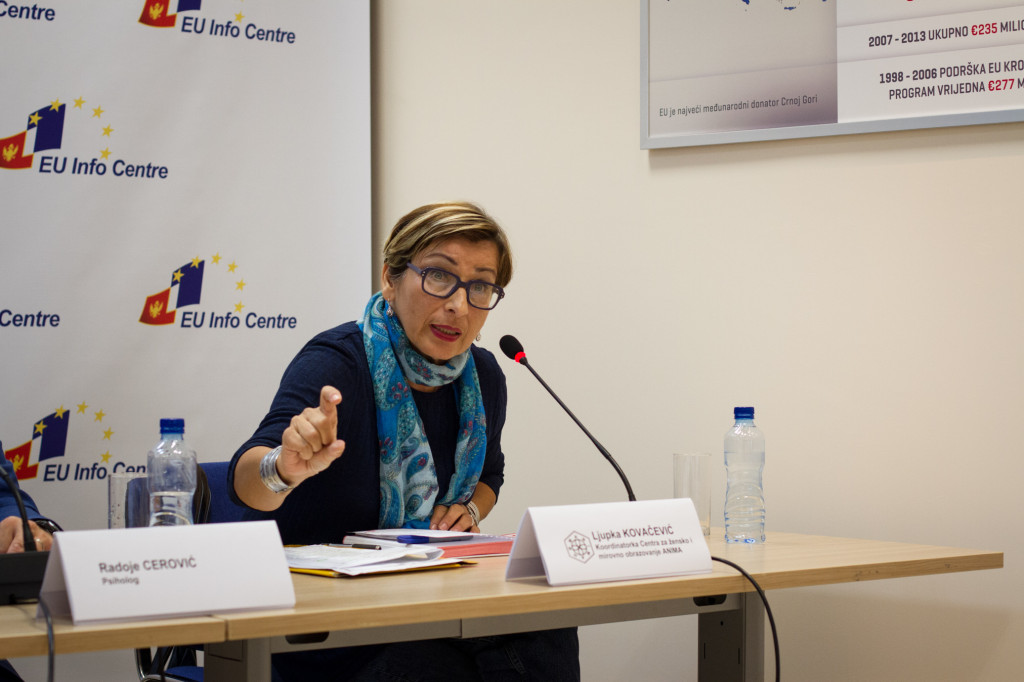 Ljupka Kovačević: "Surprisingly, in this study there was no significant difference in attitudes between men and women. There is a tendency that women are more friendly and more tolerant of the mentally ill, but now it is not the case. It turned out that the attitude of the community towards women who are mentally ill is more negative than towards men. I emphasize the responsibility of state institutions, especially the Ministry of Health, which all these years has not taken steps to reduce stigmatization, discrimination of patients with mental illness, despite a clear recognition of this problem in the Strategy for Improvement of Mental Health already in 2004. And in fact, the Ministry of Health and Education are projecting ignorance and insensitivity while avoiding responsibility."
Tea Gorjanc-Prelević: "It is worrying that nearly two-third of the Montenegrin population lives in severe ignorance and lacks basic information about mental illness. One third believe in wrong information, and another third do not know – have no opinion. Thus, one third of the population believes that the mentally ill persons are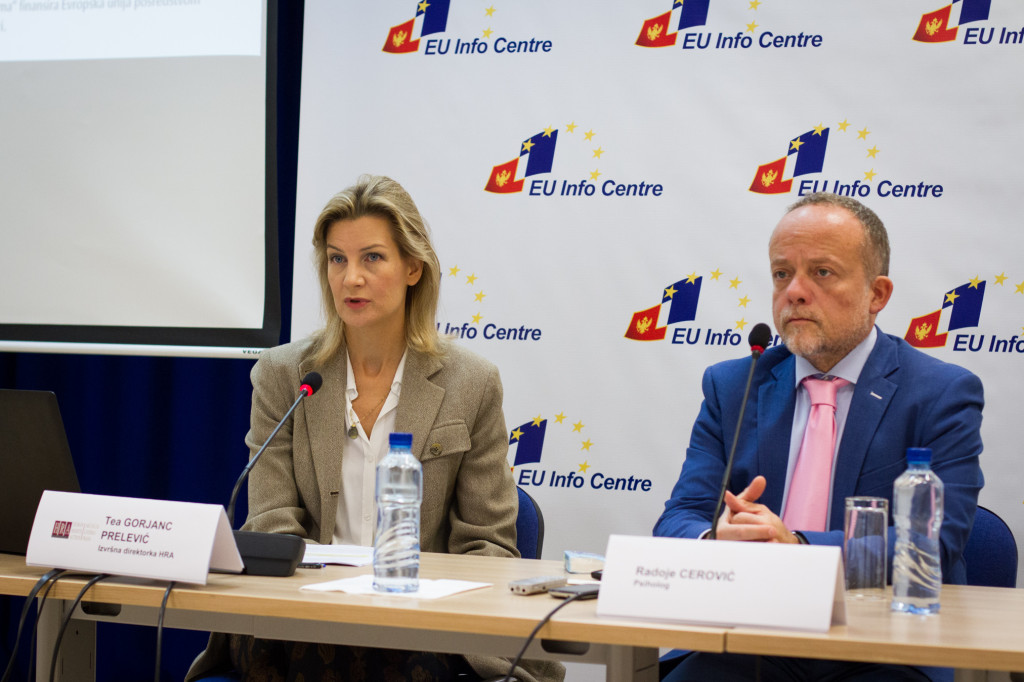 usually dangerous to people around them, that a person who has recovered from a mental illness is not able to return to work, that a person with a history of mental illness should be banned from performing a public function, that the main cause of mental disorders is lack self-discipline and willpower, so that the person is guilty for being sick. Ignorance is the source of discrimination that  prevents treatment and realisation of other human rights. Therefore, much more needs to be done to raise awareness of people to be able to help those around them, as well as themselves."
The research also established that almost 55% of Montenegrin public mistakenly believes that homosexuality is a mental disorder, 22% knows it isn't and 23% is not sure. As a regional survey conducted in 2015 found that even 69.7% of the representative of the general population in Montenegro believes homosexuality is a disease, then the data from this study indicate there has been some positive movement in the past year in this area.