The report of the Coalition of 15 NGOs for monitoring the process of negotiation within the chapter 23 was published today. The aim of the report is to provide information and observations of non-governmental organizations, members of the Coalition, about the reforms undertaken by State bodies in the area of judicial reform, anti-corruption, protection of human rights and the development of civil society, from 10 October 2012 to 10 April 2013.
Speakers at the conference included Maja Raičević from Women's Rights Centre, Ana Selić from CEMI, Ana Novaković from the Centre for Development of Non-Governmental Organizations and Ana Šoć from Human Rights Action.
– The report can be downloaded here.
– The report in English can be downloaded here.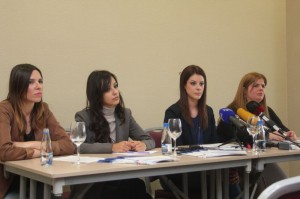 – Press release "No political will for essential changes in Montenegrin society" can be downloaded here.