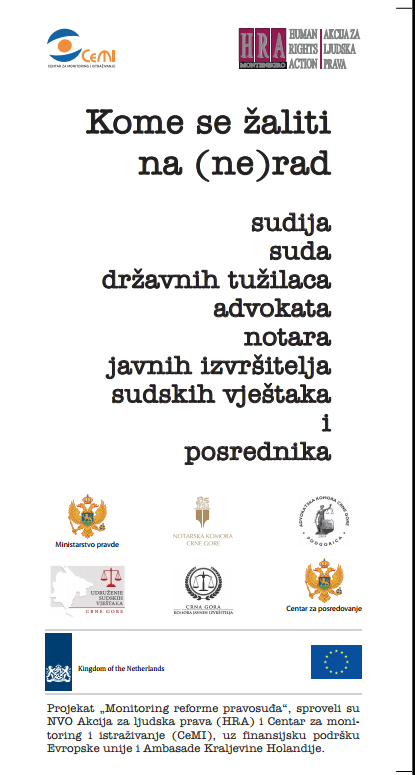 NGO Human Rights Action (HRA) and Centre for Monitoring and Research (CeMI) published the brochure "How to complain on the work of a judge, court, public prosecutor, lawyer, notaries, public bailiffs, court experts and mediators". The brochure has been distributed today to the citizens of Montenegro with the daily Dan and will be available at info desks in the courts in the coming days.
The brochure has been prepared in cooperation with the Ministry of Justice, Bar Association, Center for Mediation, Association of Court Experts, Chamber of Bailiffs and Notary Chamber and the Judicial Council and Supreme State Prosecution agreed with its content. It was developed as part of the "Judicial Reform Monitoring" project implemented by HRA and CeMi in the period 2014-2017, with the financial support of the European Union and the Embassy of the Kingdom of the Netherlands.
The public opinion poll executed in the project has shown that most citizens did not know to whom they could complain on the work of the members of judicial and related professions, so the brochure is our contribution to their better information.
Regular complaining against unprofessional work of members of judicial and related professions should challenge institutions obliged to ensure professionalism to improve protection of the rights of citizens.