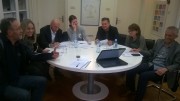 Final meeting of representatives of media self-regulatory bodies at which conclusions and over 40 recommendations on how to improve ethical journalism in Montenegro has been organized by Human Rights Action (HRA) on Friday. This was the final activity in the project "Continuation of Debate on Applications of Code of Ethics", supported by the British Embassy in Podgorica and dedicated to uniform application of the Code of Journalists of Montenegro and improving mutual cooperation of media self-regulatory bodies.
Participants Amer Ramusović (president of the Self-Regulatory Local and Periodical Press Council), Božena Jelušić (Ombudswoman of daily Vijesti until the end of 2014), Paula Petričević (Ombudswoman of weekly Monitor), Ilija Jovićević (Ombudsman of daily Dan) and Goran Đurović and Dragana Tripković (the president and member of the RTCG Council for Consideration of Petitions and Complaints of Listeners and Viewers) previously discussed about plagiarism of media contents, hate speech and offensive language, respect of presumption of innocence, respect of the right to privacy, unbalanced and biased reporting, using anonymous sources and the right to correction and reply. On behalf of HRA, the round tables were moderated by Mr. Dragoljub Duško Vuković.
The Media Council for Self-Regulation has not accepted repeated invitations to take part in the discussions.
HRA would like to highlight the following media self-regulators' recommendation: "If during interviewing a person is mentioned in a negative or a context that could harm his/her reputation, or if there are more interested parties to the interview topic, it is necessary to secure and include opinion of these persons in the same or next edition of the media. Interview, as a journalistic form, cannot represent an excuse for enabling the interviewee to insult, accuse and present unverified facts on other people."
Conclusions and recommendations (in Montenegrin) are available here.
HRA team