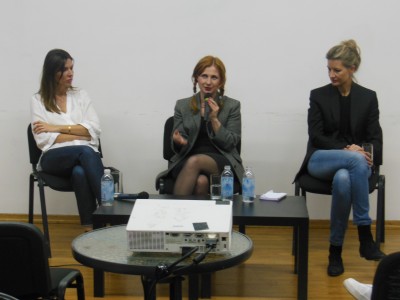 Human Rights Action (HRA) and Women's Rights Center (WRC) on Friday, 27 November 2015 organised a debate "Pussy Riot – a global symbol of rebellion" in the bookstore "Karver" in Podgorica, during which a film "Pussy Riot: A Punk Prayer" by Majk Lerner and Maxim Pozdorovkin had been played, followed by conversation with Masha Aljokhina, the founder of the Moscow activist group "Pussy Riot".
The event was attended by more than 100 people, mostly human rights activists, students and journalists. The official discussion was followed by a cocktail party for all attendees.
Masha Aljokhina got into the world public focus after the performance of the feminist punk band "Pussy Riot" in the Church of Christ the Saviour in Moscow in 2012, when she was arrested and sentenced to nearly two years in prison for "hooliganism motivated by religious hatred." The goal of this performance was to express protest against the "unnatural" relationship of the Orthodox Church with Vladimir Putin. The video recording of the performance is available here.
We spoke about Masha's activism, the trial, her time spent in prison, life after prison and plans for the future. For more details, please read the following articles (in Montenegrin):
Portal Prelistaj.me: SYMBOLS OF REBELLION Marija Maša Aljohina, Pussy Riot: Ten women died daily in the prison where I did my time (SIMBOLI POBUNE Marija Maša Aljohina, Pussy Riot: U zatvoru gdje sam bila, dnevno je umiralo po desetak žena) (available at: http://www.prelistaj.me/2015/11/29/simboli-pobune-marija-masa-maljikina-pussy-riot-u-zatvoru-gdje-sam-bila-dnevno-je-umiralo-po-desetak-zena/).
Portal Vijesti: Former member of "Pussy Riot" band in Podgorica: Small steps bring the greatest results (Bivša članica grupe "Pussy riot u Podgorici: Najviše se postiže malim koracima) (available at: http://www.vijesti.me/caffe/bivsa-clanica-grupe-pussy-riot-u-podgorici-najvise-se-postize-malim-koracima-862860).
B92: Pussy Riot: We were lucky to be the first ones (Pussy Riot: Imale smo sreće jer smo bile prve)  available at: http://www.b92.net/kultura/vesti.php?nav_category=1087&yyyy=2015&mm=11&dd=29&nav_id=1068650).
*   *   *