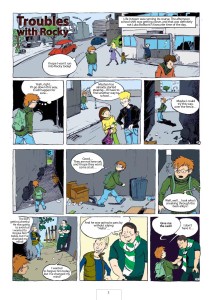 The National Bureau for Textbooks and Teaching Aids – Podgorica, decided to publish for the first time in its history a comic book as a teaching aid. "Troubles with Rocky and Other Stories on Children's Rights" – a comic book developed in 2013 within joint project "Children, Write to the Ombudsman!" carried out by HRA and the Protector of Human Rights And Freedoms (the Ombudsman) has been published as an addition to the textbook for subject Civic education for the sixth grade.
The National Bureau for Textbooks and Teaching Aids decided in December 2013 to make this comic book an additional teaching aid for subject Civic education in elementary schools in Montenegro. HRA and the Ombudsman, with the support of the Swiss Embassy, UNICEF and British Embassy, secured 16000 copies of the first edition for all students of the sixth and seventh grade of elementary schools.
Much enthusiasm has been invested into the project, and we are thrilled that "Troubles with Rocky and Other Stories on Children's Rights" are recognised by students and gladly read.
The comic authors, selected by a public contest, are Svetozar Obradović from Novi Sad, Ante Krstulović from Split and children of the literature section of "Radomir Rakočević" Elementary School from Mojkovac: Valentina Stanić, Todor Raičević, Ivana Medojević, Anđela Stanić, Božidar Medojević, Anđela Medojević, Duško Zejak, Milan Filipović, with teacher Mariola Stanić. The comic book was drawn by Ilija Nikčević from Nikšić, academic artist.

>>>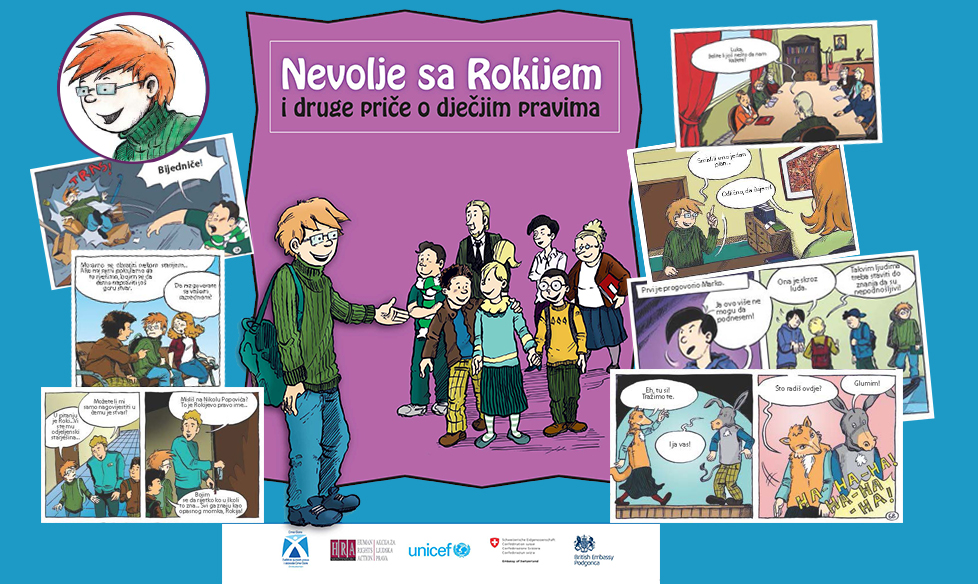 Zavod za udžbenike i nastavna sredstva – Podgorica je ove školske godine po prvi put u svojoj istoriji objavio strip kao nastavno sredstvo. "Nevolje sa Rokijem i druge priče o dječjim pravima" – strip nastao 2013. godine u okviru zajedničkog projekta "Djeco, pišite Ombudsmanu!" Akcije za ljudska prava (HRA) i Zaštitnika ljudskih prava i sloboda Crne Gore (Ombudsman) – objavljen je kao dodatak udžbeniku za predmet Građansko vaspitanje za VI razred.
Nacionalni savjet za obrazovanje je u decembru 2013. godine odlučio da ovaj strip postane pomoćno nastavno sredstvo u nastavi Građanskog obrazovanja u osnovnim školama u Crnoj Gori. U toku prošle školske godine 2014/2015, HRA i Ombudsman su uz podršku UNICEF-a, Švajcarske ambasade u Beogradu i Britanske ambasade u Podgorici obezbijedili 16000 primjeraka prvog izdanja stripa svim učenicima VI i VII razreda osnovnih škola.
U projekat je uloženo mnogo entuzijazma i raduje nas da su "Nevolje sa Rokijem i druge priče o dječjim pravima" kod učenika postale prepoznatljive i rado čitane.
Autori stripa, izabrani na osnovu javnog konkursa, su Svetozar Obradović iz Novog Sada, Ante Krstulović iz Splita, i učenici literarne sekcije OŠ "Radomir Rakočević" iz Mojkovca pod vođstvom nastavnice Mariole Stanić: Valentina Stanić, Todor Raičević, Ivana Medojević, Anđela Stanić, Božidar Medojević, Anđela Medojević, Duško Zejak i Milan Filipović. Strip je nacrtao Ilija Nikčević iz Nikšića, akademski umjetnik.

>>>
On the occasion of the International Day of the Victims of Enforced Disappearances observed on Sunday 30 August, Human Rights Action (HRA) and Committee of Lawyers for Human Rights (CKP) reminded that the remains of many victims of war crimes, from the Deportation of Muslim refugees, abductions in Strpci and killings in Kaludjerski laz, have still not been found. Bodies of at least ten refugees who, in May 1992, were illegally arrested in Herceg-Novi and handed over to members of Republika Srpska armed forces, as well as of 14 victims of abduction from a train at Strpci station and a victim of a crime in Kaludjerski laz, have still not been found.

>>>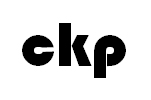 Povodom Međunarodnog dana žrtava prinudnih nestanaka, koji se obilježava u nedelju 30. avgusta, Akcija za ljudska prava (HRA) i Komitet pravnika za ljudska prava (CKP) podsjećaju da posmrtni ostaci mnogih žrtava ratnih zločina Deportacija muslimanskih izbjeglica, otmice u Štrpcima i ubistava u Kaluđerskom lazu do danas nisu pronađeni. Još uvijek nisu pronađena tijela najmanje desetorice izbjeglica koji su u maju 1992. nezakonito uhapšeni u Herceg-Novom i izručeni pripadnicima oružanih snaga Republike Srpske, kao ni 14 žrtava otmice iz voza u stanici Štrpci i jedne žrtve zločina u Kaluđerskom lazu. Nije poznato da je zvanična Crna Gora na bilo koji način pomogla pronalaženje posmrtnih ostataka ovih ljudi.

>>>
On the occasion of breaking into a vehicle of daily Dan, used by the co-owner of this media outlet Slavica Jovanović, and theft that occurred on that occasion, Human Rights Action expresses its concern and condemns this latest attack on the media in Montenegro.
Also, we are expecting the competent state prosecutor to inform on the epilogue of expertise of the damage to the car owned by RTCG General Director Rade Vojvodić, which was discovered a month ago, on 29 July 2015.
Montenegro is a country where citizens are unfortunately accustomed to frequent attacks on property and physical integrity of journalists and media. Such attacks generally go unresolved and therefore unpunished, which is also devastating the country's reputation. We are still hoping for the results of the cooperation of the state prosecution and the police, who are primarily responsible for suppressing attacks on journalists.
In addition, HRA has been continuously advocating for the introduction of new criminal offenses ensuring more strict punishments for attacks on journalists and their property.
Povodom obijanja vozila dnevnog lista "Dan", koji je koristila suvlasnica tog medija, Slavica Jovanović, i krađe koja se tom prilikom desila, Akcija za ljudska prava izražava zabrinutost i osuđuje i taj posljednji napad na medije u Crnoj Gori.
Očekujemo i obavještenje od nadležnog državnog tužioca o epilogu vještačenja oštećenja na automobilu generalnog direktora RTCG, Rada Vojvodića, koje je otkriveno pre mjesec dana, 29. jula 2015.
Crna Gora je zemlja u kojoj su građani nažalost naviknuti na učestale napade na imovinu i fizički integritet novinara i medija. Pogubno za ugled države je to što se ti napadi po pravilu ne rasvjetljuju i ne kažnjavaju. I dalje se nadamo rezultatima zajedničkog rada državnog tužilaštva i policije, od koje prvenstveno zavisi suzbijanje napada na novinare.

>>>

NGOs Human Rights Action, Women's Rights Center and Women's Safe House assess that the Montenegro Bar Association supports unprofessionalism of attorneys providing ex officio defence by denying its competence to determine liability of attorney who failed to take any action to defend his client, although he had been paid to act by taxpayers money. We are stunned by such decision of the Bar Association, of which we expected to vigorously protect the ethics of the profession, which, we believe, the majority of its members respects.
The Deputy Disciplinary Prosecutor of the Bar Association, attorney Nikola Medojević, rejected our complaint against attorney Boško Laličić, filed because he provided no defence to Moldovan women Svetlana Čabotarenko (S.Č.) in a criminal proceeding conducted against her by private plaintiffs Zoran Piperović and Ekrem Jasavić. In the reasoning of the Decision (attached), Medojević emphasized that "neither the Bar Association authorities nor Disciplinary Prosecutor are competent, as a supervising authority, to evaluate appropriateness of taking or not taking individual actions in a number of cases in which attorneys act on a daily basis before courts."
NGOs Human Rights Action, Women's Rights Center and Women's Safe House filed in December 2014 a complaint against attorney Boško Laličić because he has, acting ex officio, only figured in the proceedings and did nothing to defend his client, which was then sentenced in absentia to imprisonment, although the Code of Professional Ethics obliges an attorney in each case, even in ex officio proceedings, to exercise and protect the client's interests, the interests of justice and contribute to the rule of law and a society based on respect for the law by their professional and other public activities and personal example, while at the same time they are required to perform their profession in a considerate, conscientious, decisive and timely manner, with honesty to the client, with full commitment to the case entrusted to him/her and using all his/her knowledge and skills and all legally permissible and reasonable means.
We remind that attorney Laličić:
1) Failed to propose any evidence in favour or question evidence against his client;
2) Disputed none of the evidence presented against his client;
3) As the closing argument stated solely "I trust the Court to adopt of a lawful decision";
4) Failed to appeal the first instance decision finding his client guilty and sentencing her to a suspended prison sentence;
5) In response to the prosecutors' appeal, insisting on a more stringent punishment, he failed to propose to the court to reject the appeal, but only laconically stated that he sought "justice and legality". His client was then sentenced to one year in prison.

>>>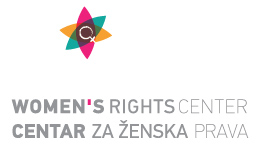 NVO Akcija za ljudska prava, Centar za ženska prava i Sigurna ženska kuća smatraju da Advokatska komora Crne Gore podržava neprofesionalni rad advokata koji pružaju odbranu po službenoj dužnosti zauzimanjem stava da nije nadležna da utvrđuje odgovornost advokata koji suštinski ništa ne uradi za klijenta koga je plaćen da brani po službenoj dužnosti, novcem poreskih obveznika. Zapanjeni smo ovakvom odlukom Advokatske komore, od koje smo očekivali da odlučno štiti etiku advokatske profesije koju, nadamo se, ipak poštuje većina njenih članova.
Zamjenik disciplinskog tužioca Advokatske komore, advokat Nikola Medojević, odbacio je pritužbu protiv advokata Boška Laličića koju smo podnijele zato što nije pružio nikakvu odbranu po službenoj dužnosti Moldavki Svetlani Čabotarenko (S.Č.) u krivičnom postupku koji su protiv nje sproveli privatni tužioci Zoran Piperović i Ekrem Jasavić. Medojević je u obrazloženju odluke (dostupno ovdje) istakao da "organi Advokatske komore Crne Gore, pa ni disciplinski tužilac nemaju nadležnost da po pravu nadzora vrednuju cjelishodnost preduzimanja ili nepreduzimanja pojedinačnih radnji u brojnim predmetima u kojima advokati svakodnevno postupaju pred sudovima."
NVO Akcija za ljudska prava, Centar za ženska prava i Sigurna ženska kuća su Advokatskoj komori u decembru 2014. podnijele pritužbu protiv advokata Laličića zbog toga što je on, postupajući po službenoj dužnosti, samo figurirao u postupku i ništa drugo nije uradio za odbranu svoje klijentkinje, koja je onda u odsustvu osuđena i na kaznu zatvora, iako Kodeks profesionalne etike advokata obavezuje advokata u svakom slučaju, pa i u postupku po službenoj dužnosti, da ostvaruje i štiti interese klijenta, služi interesima pravde i da svojim profesionalnim i drugim javnim djelovanjem i ličnim primjerom doprinosi vladavini prava i društvu zasnovanom na poštovanju zakona, dok je istovremeno dužan da svoju profesiju obavlja savjesno, brižljivo, odlučno, blagovremeno, sa iskrenošcu prema klijentu, uz punu posvećenost slučaju koji mu je povjeren i uz upotrebu svih svojih znanja i sposobnosti i svih pravno dopuštenih i opravdanih sredstava.
Podsjećamo da advokat Laličić u pomenutom postupku:
(1) nije predložio izvođenje ni jednog dokaza u korist svoje klijentkinje,
(2) nije doveo u pitanje ni jedan dokaz protiv svoje klijentkinje;
(3) da je u vidu završne riječi, rekao samo: "ostavljam sudu na ocjenu donošenje zakonite odluke";
(4) da nije izjavio žalbu na prvostepenu presudu kojom je njegova klijentkinja oglašena krivom i uslovno osuđena na kaznu zatvora, a
(5) da na žalbu tužioca koji je insistirao da se ona strožije kazni, nije ni odgovorio predlogom da se žalba odbije, već je samo izjavio da traži "pravičnost i zakonitost".

>>>
HRA is pleased to learn that the Municipality of Nikšić has begun checking the legal basis for free accommodation in housing facilities owned by the Municipality (according to the article published by daily Dan).
In January 2015 HRA sent an initiative to the president of Municipality of Nikšić, Mr Veselin Grbović, aiming to protect the human right to adequate housing, suggesting listing of all housing facilities owned by the Municipality, examining legal basis on which they were occupied and taking appropriate action if irregularities are detected.
HRA provided information to Mr. Grbović, which proved to be true, on existence of persons abusing these housing facilities as they have, in the meantime and in some other way, solved their housing issue. On the other hand, there are other vulnerable families living in inhuman conditions, and which should be provided with adequate housing.

>>>
HRA je sa zadovoljstvom primila vijest (koju je objavio Dan) da se u Nikšiću započelo sa provjerom pravnih osnova za besplatno stanovanje u objektima koji su u opštinskom vlasništvu.
U cilju zaštite ljudskog prava na adekvatno stanovanje, HRA je krajem januara predsjedniku opštine Nikšić Veselinu Grboviću uputila inicijativu kojom smo predložili da se popišu stambeni objekti u vlasništvu Opštine, da se ispitaju pravni osnovi po kojima su useljeni i preduzmu odgovarajuće mjere u slučaju da se otkriju nepravilnosti.
Predsjedniku Grboviću smo tada i saopštili informacije, koje su se ispostavile tačnim, da postoje lica koja zloupotrebljavaju boravak u ovim objektima jer su u međuvremenu, na drugi način, riješila stambeno pitanje. S druge strane, u Nikšiću i dalje ima stambeno ugroženih građana, koji žive u nehumanim uslovima, i koje bi trebalo adekvatno zbrinuti.

>>>
Human Rights Action (HRA) sent a letter today to the Minister of Labour and Social Welfare, Ms Zorica Kovačević, and the Mayor of the Capital City, Mr Slavoljub Stijepović, regarding eviction of families living in barracks next to Aluminium Plant in Podgorica (Kombinat Aluminijuma Podgorica – KAP).
HRA urged the Ministry of Labour and Social Welfare and The Capital City to make joint efforts towards reaching an agreement in order to prevent these families from leaving their homes before providing an alternative accommodation.
The letter (in Montenegrin) is available here.

>>>
Akcija za ljudska prava je uputila danas pismo ministarki rada i socijalnog staranja, gospođi Zorici Kovačević, i gradonačelniku Glavnog grada, gospodinu Slavoljubu Stijepoviću povodom iseljavanja porodica koje žive u barakama kod Kombinata aluminijuma (KAP).
Apelulovali smo na Ministarstvo rada i socijalnog staranja i Glavni grad da zajedničkim naporom doprinesu postizanju dogovora kako porodice ne bi bile primorane da napuste svoje domove prije nego što im se obezbijedi alternativni smještaj.
Human Rights Action (HRA) condemns yesterday's stoning of daily Dan facilities. According to HRA records, this is the seventh attack on journalists and their property from the beginning of 2015.
HRA reminds that there were two attacks on daily Dnevne novine correspondents' property last month, and that vehicle of daily Dan correspondent was damaged in May. Since the beginning of 2015 three other cases of attacks on have been reported, which unfortunately continues the trend from 2014, when 10 similar cases were reported to the police.
An American NGO dealing with human rights protection, Human Rights Watch, published its report A Difficult Profession Media Freedom Under Attack in the Western Balkans, stating that the state of Montenegro was responsible for impunity for most crimes against journalists. The report, inter alia, cited HRA data that 20 cases of attacks and harassment of Montenegrin journalists have been recorded between 2010 and early 2014, including explosions at media outlets, car bombs, attacks and death threats.
HRA and Center for Monitoring and Research (CeMI) proposed the Ministry of Justice at the 1st National Conference on the Judicial Reform Process named "Judicial Reform in Montenegro – results achieved" to amend the Action plan for implementation of the Judicial Reform Strategy 2014-2016 with a measure that would provide drafting an needs analysis for amending the Criminal Code of Montenegro in order to prescribe enhanced protection of members of the profession performing public services and which are exposed to increased security risks, including journalists, lawyers, and human rights activists. This provision was stipulated, for example, by the Criminal Code of Serbia.

>>>
Akcija za ljudska (HRA) prava osuđuje jučerašnje kamenovanje prostorija dnevnog lista Dan. Prema našoj evidenciji ovo je već 7. napad na novinare i njihovu imovinu od početka ove godine.
Podsjećamo, prošlog mjeseca su se desila dva napada na imovinu dopisnica Dnevnih novina, a u maju je oštećeno i vozilo dopisnika Dana iz Bijelog Polja. Od početka godine, prijavljena su još tri slučaja napada na novinare čime se, nažalost, nastavlja trend iz 2014, tokom koje je policiji prijavljeno čak 10 ovakvih slučajeva.
Američka NVO za zaštitu ljudskih prava Human Rights Watch, je u svom izvještaju "Teška profesija – udar na slobodu medija na zapadnom Balkanu" (A Difficult Profession Media Freedom Under Attack in the Western Balkans) između ostalog zaključila da je država Crna Gora odgovorna za nekažnjivost većine zločina protiv novinara. U izvještaju se navodi i podatak HRA da je samo u periodu između 2010 – 2014 zabilježeno 20 slučajeva napada na novinare i imovinu medija, uključujući uznemiravanje, podmetanje eksplozivnih naprava i prijetnje smrću.
HRA i Centar za monitoring i istraživanja (CeMI) su na Prvoj nacionalnoj konferenciji o reformi pravosuđa održanoj u okviru projekta "Monitoring reforme pravosuđa u Crnoj Gori" predložili Ministarstvu pravde da Akcioni plan za sprovođenje Strategije reforme pravosuđa za period 2014-2016 dopuni mjerom kojom bi se obezbijedila izrada analize potrebe da se dopunama Krivičnog zakonika Crne Gore propiše pojačana zaštita pripadnika profesija koje obavljaju javnu službu, a koje su izložene povećanom bezbjednosnom riziku, što uključuje novinare, advokate, ali i aktiviste za ljudska prava, pogotovo za prava seksualnih manjina. Ovakva odredba je propisana, primjera radi, Krivičnim zakonikom Srbije.

>>>
American NGO dealing with human rights protection, Human Rights Watch, published on 15 June 2015 its report A Difficult Profession Media Freedom Under Attack in the Western Balkans. Human Rights Watch's research has found that ineffective state response has resulted in de facto impunity for most crimes against journalists.
The report, inter alia, cited HRA data that 20 cases of attacks and harassment of Montenegrin journalists have been recorded between 2010 and early 2014, including explosions at media outlets, car bombs, attacks and death threats. Other data from HRA report Prosecution of Attacks on journalist in Montenegro have been cited as well.

>>>