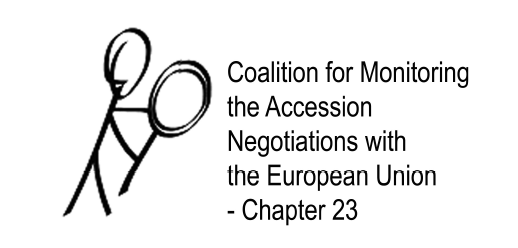 Based on the fact that the Action Plan for Chapter 23 is a document that concerns all citizens of Montenegro, the current approach to reporting prevents proper public understanding of what has been done and achieved and an objective assessment of changes made so far. This is one of the key findings of the Coalition of 16 NGOs for Monitoring the Accession Negotiations under Chapter 23 that prepared a detailed review of the report on the implementation of this document.
In fact, certain parts of the report lack measurable data on specific cases, on the basis of which it would be possible to assess the impact of undertaken measures, especially in regard to court statistics, records on anti-discrimination, or data in relation to exercising human and minority rights. Instead, the result and impact indicators refer to reports of competent state bodies for the implementation of measures (periodical and annual reports to the contracting authority), most of which are not available online, so it is impossible to verify whether they contain accurate and objective information.

>>>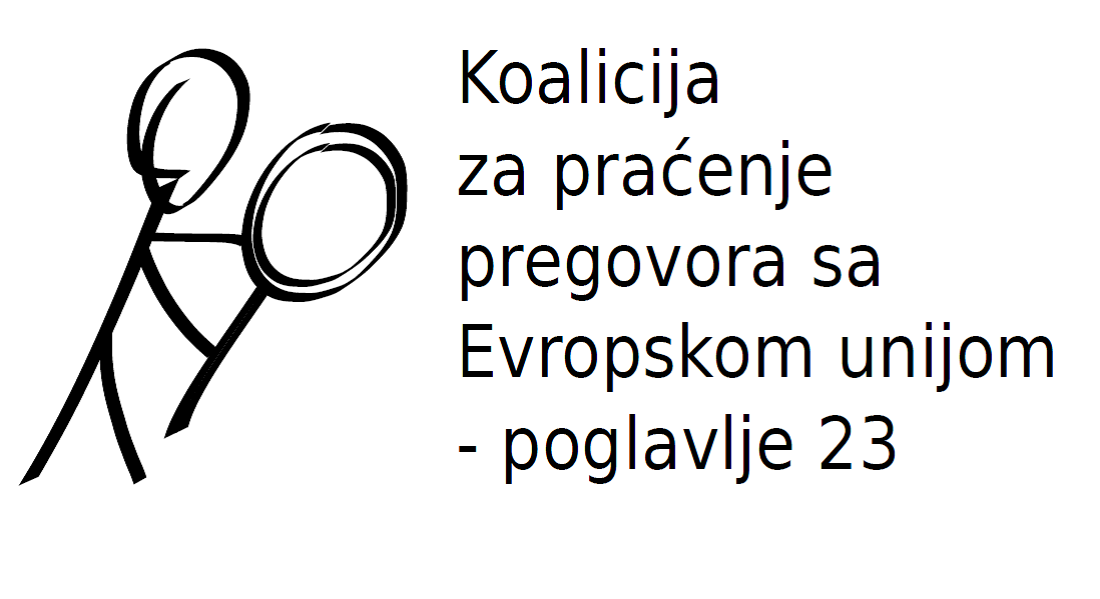 Polazeći od činjenice da je Akcioni plan za poglavlje 23 dokument koji se tiče svih građana i građanki Crne Gore, postojeći pristup izvještavanju onemogućava javnosti odgovarajuće razumijevanje onoga što je urađeno i objektivnu ocjenu ostvarenih promjena. Ovo je jedan od ključnih nalaza Koalicije 16 NVO za praćenje pregovora u okviru poglavlja 23 koja je pripremila detaljan osvrt na izvještaj o primjeni ovog dokumenta.
Naime, iz pojedinih djelova izvještaja izostaju mjerljivi podaci, koji se odnose na konkretne slučajeve, a na osnovu kojih bi bilo moguće ocijeniti uticaj preduzetih mjera, posebno kada su u pitanju sudska statistika, evidencije koje se odnose na anti-diskriminaciju ili podaci u odnosu na ostvarivanje ljudskih i manjinskih prava. Umjesto toga, u pokazateljima rezultata i uticaja se navode izvještaji nadležnih organa za primjenu mjera (periodični, godišnji i izvještaji prema ugovornim tijelima) od kojih veliki broj nije dostupan na internetu, pa nije moguće provjeriti da li oni sadrže tačne i objektivne informacije.

>>>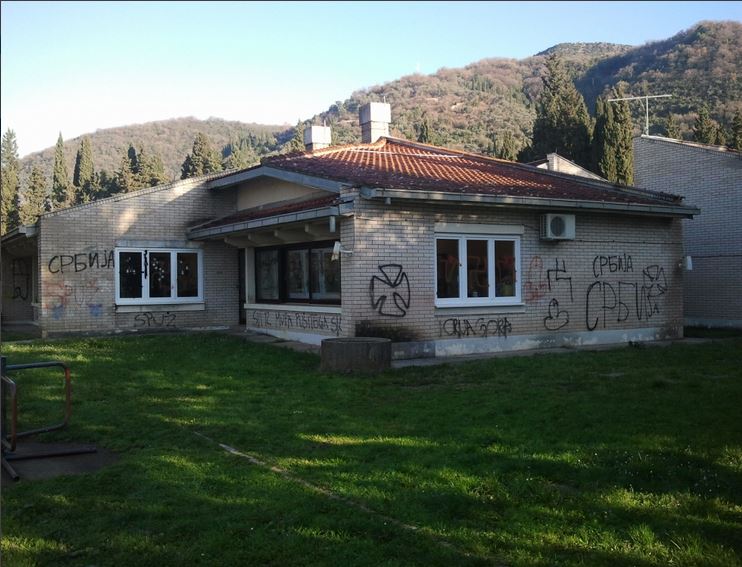 Photo: Siniša Lauković, Vijesti
Human Rights Action (HRA) condemns the nationalist, Nazi and vulgar messages written on the facade of "Drago Milović" elementary school in Tivat, as well as the regional division of this school and kindergarten in Donja Lastva. Also worrying is the fact that similar graffiti were earlier written on the same school.
We note that in March 2012 hate speech graffiti ("Oh Ustashas, you just wait, there is a deep grave waiting for you") was written on the wall of "Drago Milović" elementary school. As HRA was then informed, Security Centre Tivat officials have identified two juveniles, and regarding the event, the Prosecutor's Office stated that this case was not a criminal offense but a misdemeanour. The Regional Misdemeanour Body in Kotor stated that there was no sufficient evidence that the identified juveniles wrote the mentioned graffiti, although they admitted writing some other graffiti, and that they were warned.

>>>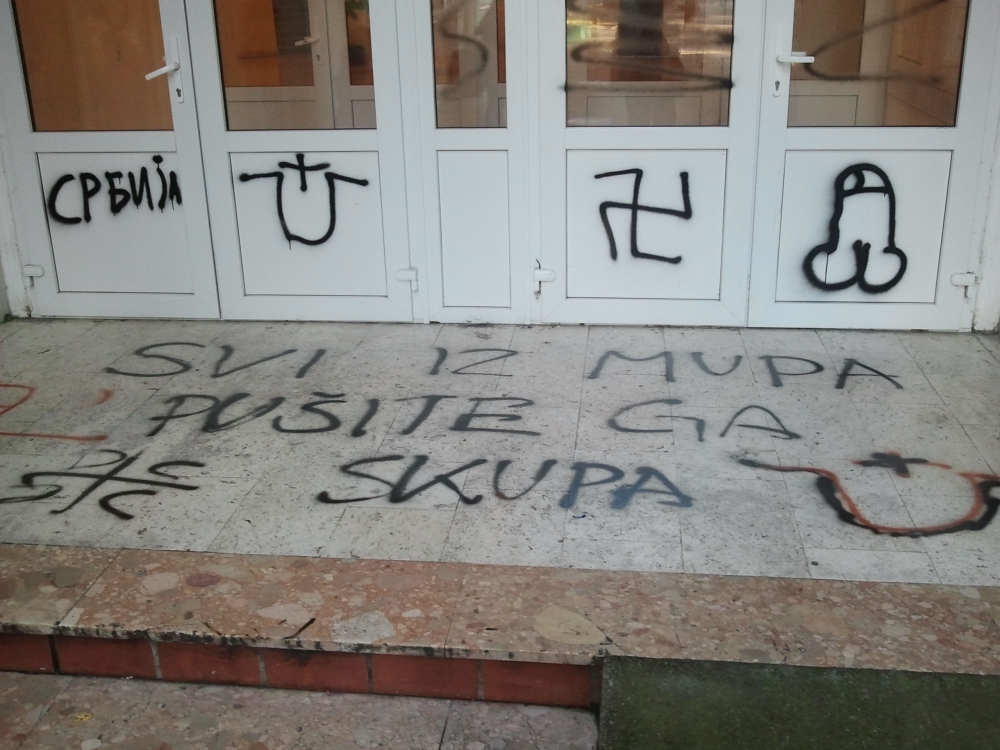 Foto: Siniša Lauković, Vijesti
Akcija za ljudska prava osuđuje nacionalističke, nacističke i vulgarne poruke na fasadi osnovne škole u Tivtu "Drago Milović", kao i područnog odjeljenja iste škole i vrtića u Donjoj Lastvi. Zabrinjava činjenica da se grafiti iste vrste na istoj školi ponavljaju.
Podsjećamo da su u martu 2012. godine na zidu iste osnovne škole "Drago Milović" u Tivtu, ispisani grafiti s govorom mržnje ("Oj ustaše, neka, neka, duboka vas jama čeka"). Kako je Akciji za ljudska prava tada saopšteno, Službenici OB Tivat su identifikovali dva maloljetna lica, a tužilaštvo se povodom događaja izjasnio da nije u pitanju krivično djelo već prekršaj. Područni organ za prekršaje u Kotoru se tada izjasnio da nema dovoljno dokaza da su identifikovani maloljetnici ispisali grafit u pitanju, iako su priznali da su ispisivali neke druge grafite, ali da su opomenuti.

>>>
Human Rights Action and the Media Trade Union of Montenegro organized today a round table on the initiative to provide increased criminal law protection of journalists by the Criminal Code.
HRA's proposed amendments to the Criminal Code are available here, and the agenda of the event here.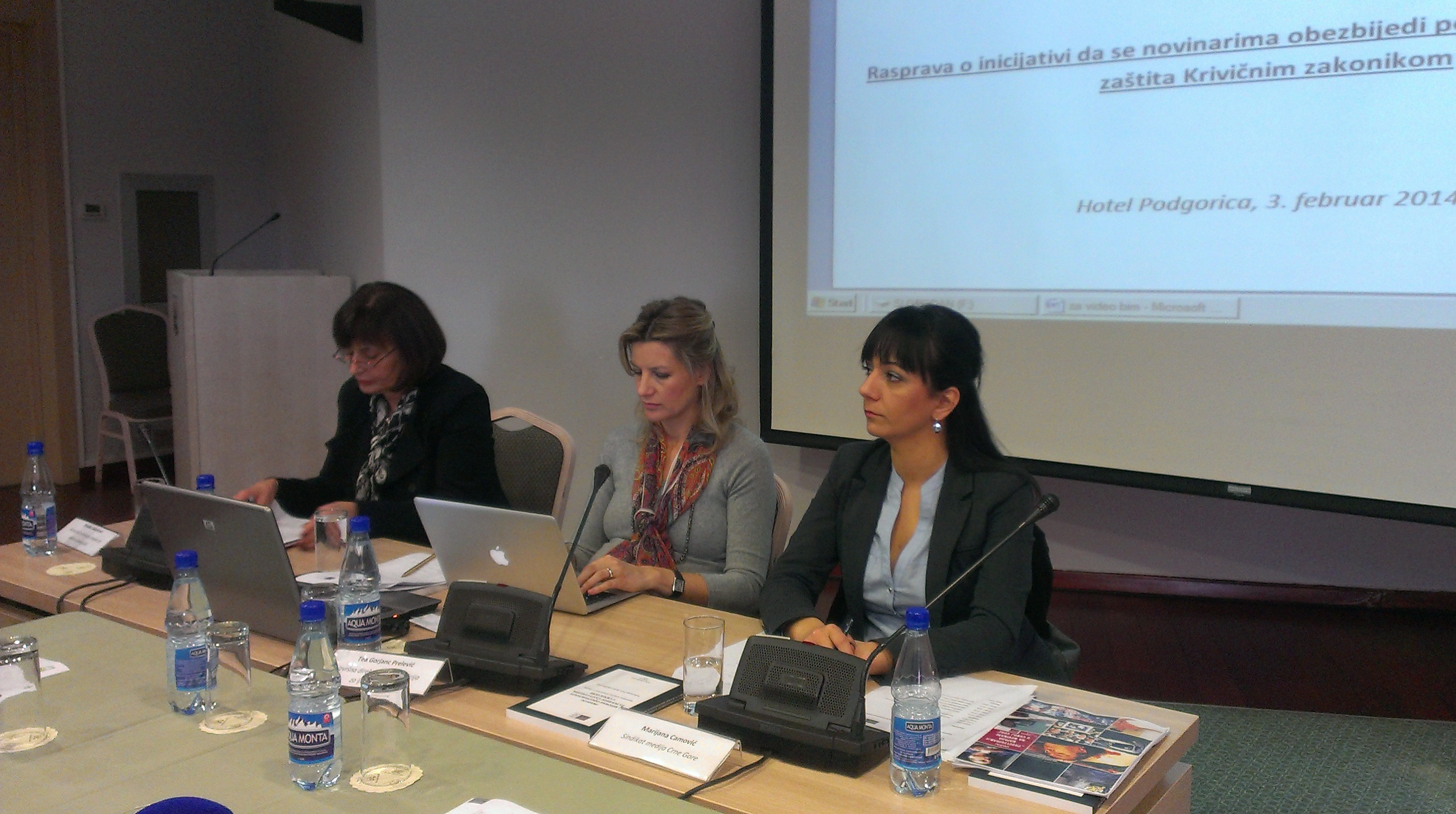 Akcija za ljudska prava i Sindikat medija Crne Gore danas su u hotelu Podgorica organizovali okrugli sto o inicijativi da se novinarima obezbijedi pojačana krivičnopravna zaštita Krivičnim zakonikom.
Predlog izmjena Krivičnog zakonika koji je pripremila Akcija za ljudska prava možete preuzeti ovdje, a agendu događaja ovdje.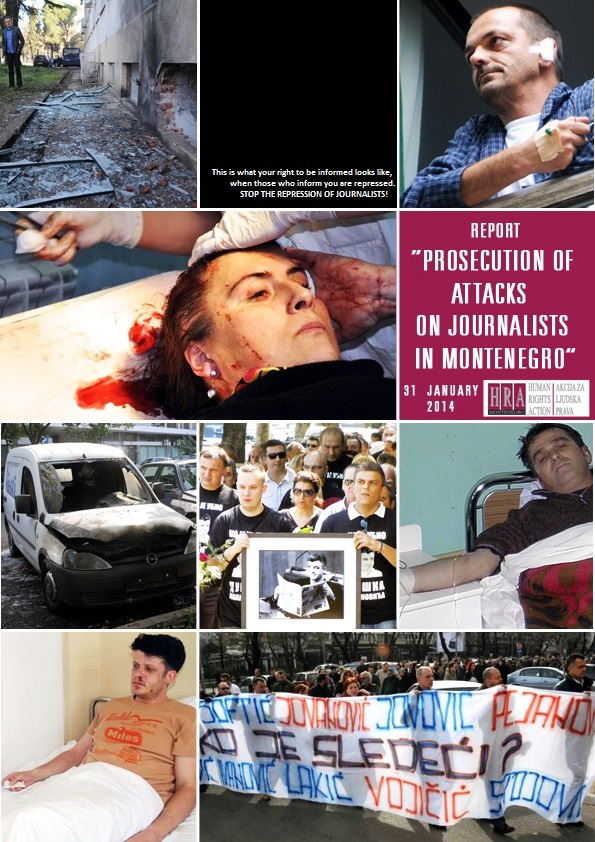 Human Rights Action published today the report "Prosecution of attacks on journalists in Montenegro", which is available here.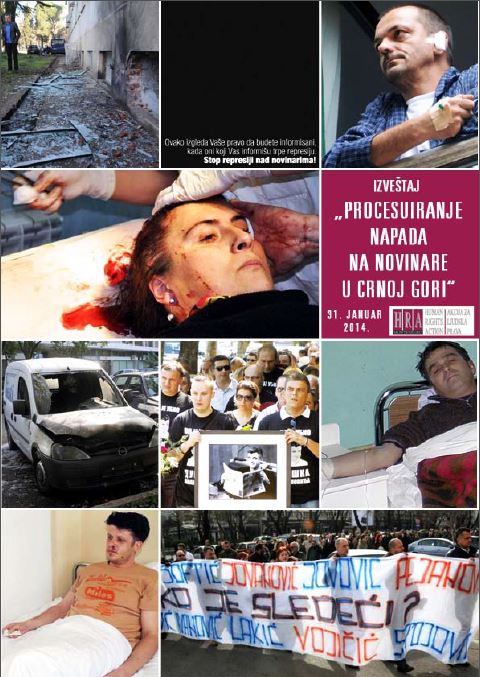 Akcija za ljudska prava je danas objavila izvještaj "Procesuiranje napada na novinare u Crnoj Gori" koji možete preuzeti ovdje.
Uvod i zaključke možete preuzeti ovdje.
The Prosecutorial Council should not operate in incomplete composition, without representatives of state prosecutors of all levels, because decisions made without the three missing members would be of disputed legitimacy, although formally legally valid.
The Prosecutorial Council has ahead of itself responsible reform duties – to adopt new Rules of Procedure, to decide on the number of prosecutors to be called for through an open competition, within 20 days from its formation, as well as to conduct the election of prosecutors and heads of the state prosecution departments.
We hope that the Conference of State Prosecutors will, as soon as possible, elect the three missing members of the Council from its members who previously did not have the chance to influence the operation of the Council and thus improve the confidence of citizens in the state prosecution office.
Misunderstandings about the election of the Prosecutorial Council could have been prevented by timely development of more specific constitutional and relevant legal provisions, rather than resolving such important issues hastily and without a public debate.
Tužilački savjet ne bi trebalo da radi u krnjem sastavu, bez predstavnika državnih tužilaca svih nivoa, jer bi odlučivanje bez tri nedostajuća člana bilo spornog legitimiteta, iako bi formalno pravno bilo važeće.
Pred Tužilačkim savjetom su odgovorne reformske dužnosti – usvajanje novog Poslovnika, odlučivanje u roku od 20 dana od formiranja o broju potrebnih tužilaca za koje treba da raspiše javni konkurs, a onda i sprovođenje izbora tužilaca i rukovodilaca državnih tužilaštava.
Nadamo se da će Konferencija državnih tužilaca u najkraćem mogućem roku izabrati tri nedostajuća člana savjeta od onih svojih članova kojima prethodno nije ukazana šansa da utiču na rad savjeta i tako unaprijede i povjerenje građana u državno tužilaštvo. 
Nesporazumi oko izbora Tužilačkog savjeta mogli su biti spriječeni blagovremenom izradom preciznijih ustavnih i pratećih zakonskih odredbi, umjesto što su se tako važna pitanja rješavala na brzinu i bez javne rasprave.
The European Court of Human Rights introduced stricter conditions for submitting applications on 1 January 2014. The first mayor change includes new application form, which must now be completed in full and submitted together with copies of the relevant supporting documents. The second major change concerns the interruption of the six months period of the final decision of the highest domestic court, within which an application must be made to the ECtHR. For the period to be interrupted, the application will now have to fulfil all the conditions set out in Rule 47 of the Rules of Court, which prescribes the above mentioned conditions. For more infomation, see the press release of the Registrar of the Court, available here.
It is important to bear in mind all the requirements for the admissibility of applications by the European Court of Human Rights, due to the extremely high percentage of applications, including those in relation to Montenegro, that the Court declares inadmissible every year because they do not meet the basic requirements. Of total 87 879 applications submitted in 2012, the Court declared inadmissible or struck out of the list of court cases more than 86 201, or 98%, because they did not meet the requirements, and made decisions only on 1678 applications. In relation to Montenegro, it dismissed 92% of submitted applications, and made decisions on only 27 applications.

>>>
Evropski sud za ljudska prava je uveo strožije uslove za podnošenje predstavke od 1. januara 2014.
Prva značajna promjena je novi obrazac predstavke, koji se mora potpuno popuniti i uz koga moraju biti dostavljene kopije svih pratećih relevantnih dokumenata da bi se predstavka uzela u razmatranje.
Druga, prateća, novina, se odnosi na podnošenje predstavke u roku od šest mjeseci od konačne odluke najvišeg nadležnog domaćeg suda, u kojem se predstavka može podnijeti Sudu da bi se smatrala prihvatljivom. Da bi se taj rok ispoštovao, potrebno je poslati uredno popunjen novi formular predstavke zajedno sa kopijama svih pratećih relevantnih dokumenata – više nije dovoljno samo faksirati bilo kakvo pismo ili samo formular predstavke. Nepotpune predstavke Sud više neće uzimati u razmatranje, tj. neće se smatrati da je i takvim nepotpunim predstavkama prekinut navedeni rok.

>>>
President of Montenegro, Filip Vujanović, did not declare the Prosecutorial Council today, stating that legal requirements have not been met because the prohibition of consecutive re-election of members by the Conference of Prosecutors has been violated. His statement is available here.
On 25 December 2013, Human Rights Action appealed to President Vujanović not to declare the Prosecutorial Council because three of its members from among state prosecutors were elected illegally by the Conference of state prosecutors, contrary to provisions of the law that prohibit consecutive election of same members of the Council. Our appeal is available here.
HRA welcomes today's decision of the President which was expected. The decision of the Conference of Prosecutors unnecessarily compromised the profession and proposed persons, and is yet another indication that the State Prosecutor's Office is in need of fundamental changes.
It would be ideal if such change would be initiated by a foreign Supreme State Prosecutor appointed by the European Union, but since this is not in line with valid law, then at least a citizen of Montenegro who has never been a part of any state powers.
Predsjednik Crne Gore, Filip Vujanović danas nije proglasio Tužilački savjet, ocjenjujući da nijesu ispunjeni zakonski uslovi jer je prekršena zabrana ponovnog uzastopnog izbora članova koje bira Konferencija tužilaca. Njegovu izjavu pogledajte ovdje.
Akcija za ljudska prava je 25. decembra 2013. apelovala na predsjednika Vujanovića da ne proglasi Tužilački savjet zbog toga što je njegova tri člana iz reda državnih tužilaca Konferencija državnih tužilaca izabrala nezakonito, protivno zakonskoj odredbi koja zabranjuje uzastopni izbor istih članova tog savjeta. Naš apel pogledajte ovdje. 
Akcija za ljudska prava pozdravlja današnju odluku predsjednika koju smo očekivali. Odluka konferencije tužilaca bila je bespotrebna kompromitacija i profesije i predloženih ljudi, i još jedan pokazatelj koliko su državnom tužilaštvu Crne Gore neophodne temeljne promjene. 
Idealno bi bilo kada bi nosilac tih promjena bio Vrhovni državni tužilac – stranac, koga bi postavila Evropska unija, ali pošto to po važećem zakonu nije moguće, onda bar domaći državljanin ili državljanka koji su do sada bili van sistema vlasti bilo koje vrste.
The last night's explosion at the door of Jevrem Brković's flat may be perceived as a frightening message to this writer who was attacked by masked persons with metal rods in 2006 in Podgorica, also in front of the building where he lives, soon after he published a novel describing ties between members of the ruling circle and mafia in Montenegro. During the attack, his driver Srđan Vojičić was killed. The attack and murder have not been resolved to this day, nor was anyone ever accused for those crimes.
NGO Human Rights Action appeals to competent state bodies to fully resolve the attack on Brković and Vojičić from 2006 including its background, as well as the last night's explosion at the door of Brković's flat. Violence against people who express different opinion must be seriously and credibly prevented and punished in the country that considers itself a democracy, such as Montenegro, which is also required to actively protect freedom of expression by its membership in the United Nations, the Council of Europe and OSCE and by its aspirations to join the European Union.