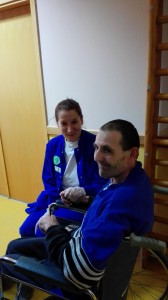 On the occasion of the Human Rights Day, Human Rights Action (HRA) visited the Public Institution Nursing Home "Grabovac" in Risan, in order to draw attention to the particularities of human rights of older persons, which are rarely in focus.
HRA is pleasantly surprised by the quality of accommodation and services this Nursing Home offers, especially the warm and kind behavior of the employees towards the users. Many of them, headed by the director Zoran Vukićević, will celebrate this New Year, just like many previous ones, in the Nursing Home together with its inhabitants. HRA learned about touching life stories that testify that life in the third age can indeed gain on quality. The problem is the fact that the Nursing Home cannot accommodate all interested persons. At the moment about a hundred people are waiting for a vacancy.
Suppressing the prejudice in relation to life in the Nursing Home and placing family members in it is of crucial importance. Each person enters the Home solely upon personal consent. All residents of the Home whom we spoke to confirmed that they found that staying in the Home does not imply being rejected and neglected. However, they all stress the importance of maintaining any kind of contact with family members.
On the other hand, households led by older persons need to be provided with support in all Montenegrin municipalities. HRA concluded from its conversations with the Nursing Home employees that it would be necessary to establish Day Care Centers for persons older than 65 years at least in all larger municipalities, as a form of non-residential care of older persons and a step towards adjustment to life in the Home, in case a person decides to join it someday. It is necessary to ensure continued funding of the service of assistance and home care for old and disabled people – the so-called gerontological nurses in all municipalities, in cooperation of the Ministry of Labor and Social Welfare and local self-governments. This is especially important for elderly who live alone in suburban areas and villages, especially in the north of Montenegro, who due to illness and distance from urban centers often find themselves cut off from the world and necessary assistance.
HRA team
* * *
Announcement of visit to Nursing Home "Grabovac" in Risan
* * *
Press-clipping
Portal Vijesti: HRA – All municipalities need Day Care Centers for persons older than 65 (HRA: Opštinama potreban dnevni boravak za starije od 65 godina)
Portal RTCG: HRA – We are surprised by excellent accomodantion (HRA: Iznenađeni odličnim smještajem)
Portal CdM: PHOTO – HRA: Systemic care for older persons in all municipalities is crucial  (FOTO: HRA: Sistemski obezbijediti brigu o starima u svim opštinama)
* * *